In Cream of the Crop (Hudson Valley #2) by Alice Clayton, New York City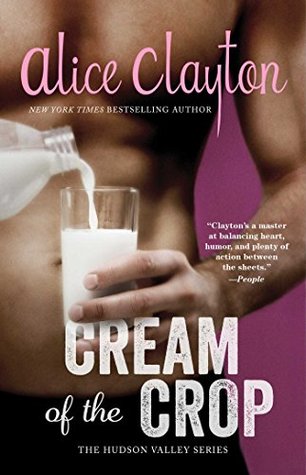 advertising exec Natalie Grayson has a problem. Normally she can get any man she wants, using her hourglass figure and skills of persuasion. But when it comes to seeing hunky dairy farmer Oscar Mendoza at the farmer's market every Saturday, she can't seem to string a complete sentence together to save her life. Each weekend Natalie struts her stuff, looking as fabulous as possible for her encounter with Oscar and then walks away with yummy brie instead of a date with the yummy farmer.
…His eyes changed from confusion to recognition. And as realization dawned, a flare of heat flashed through them.
"Brie," he breathed, placing the face and my order at the same time.
"Oh. Yes."
Then her best friend Roxie steps in and suddenly Natalie gets to meet sexy Oscar up close and personal. After a rough start, the two of them realize the crazy chemistry they share and things heat up instantly. While Natalie spends her time mainly in the city, her new boy toy and a new ad campaign have her traveling upstate to Bailey Falls each weekend. Being in the country is a whole new experience for the quintessential city girl. But does Natalie like it enough to give up city living to spend her days on the dairy farm with Oscar?
She studied me carefully, watched as I got redder and redder. "I never thought I'd see the day–"
"Shut up."
"–that Natalie Grayson, hater of all things country–"
"Shut. Up."
"–would fall in love with a country boy."
Fall in love? Whoa.
Cream of the Crop may just be my new favorite book by Alice Clayton. (Although, I somehow think I've said those words before about all of her other books…) Natalie turned out to be a fantastic heroine, all curvaceous and self-assured. And our hero, grumbly Oscar the sexy dairy farmer, was the perfect match for her in every way.
'This was moving beyond a crush. This was moving beyond a toss in the hay and a grapple in the truck. I was feeling the feels. Which made me so very nervous…but I was rolling with it, dealing with it.'
Cream of the Crop was an absolute hoot to read. I always enjoy myself with anything by Alice Clayton, but there was just something about Natalie and her crush on Oscar that resonated with me. Seeing her reduced to a breathless, wanton mess every time she went to the farmer's market and saw him–after knowing how she normally strutted her stuff–just made it clear to me that there really was something between them. Natalie and Oscar had all kinds of naughty fun once they got together. It was outrageous and raunchy, but it fit their personalities so I couldn't have imagined them being any other way with each other.
I kind of fell for both Oscar and Natalie right away. First off, Natalie was infatuated with cheese, an affliction I also share. But mostly, I admired that Natalie wasn't afraid to show off her voluptuous size eighteen figure in a world of size twos, knowing she could get any man she wanted. I loved her confidence so much! I didn't think she was arrogant. Natalie was tenacious and charming. She just knew what she wanted and went after it. Or him, as the case may be. And boy did Natalie go after Oscar. Poor guy didn't stand a chance against such awesomeness. 😉
Oscar actually ended up being a more complex guy than I at first thought. Behind the huge stature, cool tattoos and moody persona, he was dealing with some things from his past that surfaced toward the end. He might have seemed grumpy, but he treated Natalie very well (aside from one unfortunate situation) and he was relaxed and easygoing with her. I can honestly say that there was one person from Oscar's past that I didn't care too much for and cheered Natalie on as she made her claim on him be known.
Cream of the Crop took us back to beautiful Bailey Falls where we caught up with previous characters and got to spend a whole lotta quality time with Natalie and Oscar. From their intense chemistry to the hilarious situations they found themselves in, I think readers will fall in love with this power couple.
Book Info:

Publication: July 12th 2016 | Gallery Books | Hudson Valley #2
New York Times and USA TODAY bestselling author Alice Clayton brings her trademark blend of funny and sexy to this second contemporary romance in the brand-new Hudson Valley series!
Manhattan's It Girl, Natalie Grayson, has it all: she's a hot exec at a leading advertising firm, known industry-wide for her challenging and edgy campaigns. She's got a large circle of friends, a family that loves her dearly, and her dance card is always full with handsome eligible bachelors. What else could a modern gal-about-town wish for? The answer, of course, is…cheese.
Natalie's favorite part of each week is spending Saturday morning at the Union Square Farmer's Market, where she indulges her love of all things triple cream. Her favorite booth also indulges her love of all things handsome. Oscar Mendoza, owner of the Bailey Falls Creamery and purveyor of the finest artisanal cheeses the Hudson Valley has to offer, is tall, dark, mysterious, and a bit oblivious. Or so she thinks. But that doesn't stop Natalie from fantasizing about the size of his, ahem, milk can.
Romance is churning, passion is burning, and something incredible is rising to the top. Could it be…love?