In Creole Kingpin by Meghan March, Fifteen years ago Magnolia Maison fell in love with Moses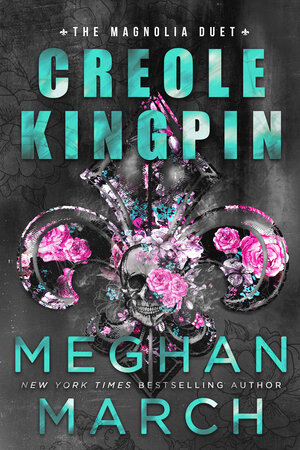 Gaspard, a gangster out of Biloxi, who treated her like a queen. Up until the point where he broke her heart when he left New Orleans seemingly for good. Magnolia clawed her way through life after that. She even created a business on her own and became more successful than she ever hoped she would be. But now Moses is back. Just when her life is in an upheaval. Magnolia has someone out to get her–and she's not sure if it's her own enemy or a thug following Moses to her door. And after the hell he put her through over a decade ago, she's not sure if wants to trust him to have her back. Or her heart.
'The heartbreak that comes from falling for Moses Gaspard isn't something I can experience twice.
Not that I'd ever admit to him exactly how badly it destroyed me.'
A lot of time has passed and so many things have gotten in the way of Moses finding his path back to Magnolia. Something he means to rectify quickly. He can't change the choices he's made, not that he'd want to, for they have eventually led him back to New Orleans and right to his woman's door all over again. But now Magnolia needs his help. Not that she'd ever tell Moses that she fears for her life. Given his own past, he has some tools–and a few friends–who can help him put an end to the turmoil plaguing Magnolia. And Moses will do his best to keep his woman from harm as well as prove his intentions towards her, once and for all.
'It's time to get the girl and live happily fucking ever after. But that's easier said than done. Especially when the woman in question is Magnolia Maison.'
Gritty, raw, seductive and oh so right, Creole Kingpin was a dark romance as only Meghan March can write it. Fans have been waiting a long time for Magnolia to get her story. And it was absolutely worth the wait.
"No man owns me." I'm proud my voice is steady.
"I don't want to own you, mama… That ain't why I'm here."
"Then why?"
"I want you to own *me*."
How does Meghan March always seem to impress me with each and every new book she releases? Especially when the hero and heroine in this particular romance were not your typical characters, flirting with the darker (and less legal) side of things. Somehow Magnolia and Moses were still relatable and, yes, even likable. Not a small feat given their past. But March took this second chance romance and flipped it on its head by showing us the more emotional side of their story, painting Moses and Magnolia in a much different light from what we've seen previously.
As with pretty much all of March's books, I can't discuss what I really want to without giving too many plot points away. I can say that I fell right from the start for Magnolia (who readers will know from the Mount trilogy). She was independent, a complete and total badass, and the best, most loyal friend to those worthy of her love. Her personality–and sensuality–personified New Orleans to me. And what a match Moses was for Magnolia! Now, if you've read March's Legend trilogy, you got to see the seedier side of Moses. So it might be a tough transition to see him go all out to win back Magnolia in this duet. But I was completely swept away. Honestly. He was uber protective of her and it was lovely to see two people who had been through so much finally get the happiness they deserved. Or at least, the beginning of their HEA where this was a doozy of a cliffhanger. Not that it's a surprise from March to have this end at a pivotal moment, but it certainly will make you get all *grabby hands* for Madam Temptress to be released!
A second chance romance fifteen years in the making, I think readers will lose their minds over the perfection of Magnolia and Moses–together again, at last–in Creole Kingpin.
Book Info:

Publication: Published March 10th 2020 | Meghan March LLC | Magnolia Duet #1
New York Times bestselling author Meghan March goes back to New Orleans and the world of Lachlan Mount with a dangerous and bold new anti-hero.
The thing about ghosts is they're supposed to stay dead.
That's exactly what I am, but I can't stay away from Magnolia Marie Maison for one more day, let alone another year.
We've already got fifteen of those between us.
As it stands, she'll want to kill me as soon as she lays eyes on me. And knowing her, she's completely up to the task.
But I'm a man on a mission, and I've got everything riding on this.
So, here I come, Magnolia. This ghost is ready for whatever you got.
After all, there's only one way I want this to end—'til death do us part.