Cross Her Heartby Melinda Leigh is the blockbuster introductory novel in Melinda Leigh's latest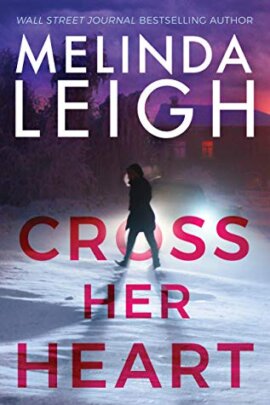 romantic suspense series. What a fantastic start to this series!
Bree Taggert is a homicide detective with the Philadelphia Police Department. Following the takedown of a fleeing suspect Bree checks her cell phone and finds a very recent voice mail message from her little sister Erin telling Bree that she is in trouble and needs Bree's help. Bree tries calling Erin back a couple times but Erin doesn't answer. Bree knows something isn't right. She heads to her old hometown of Greys Hollow, New York. Bad news awaits her. Former Greys Hollow sheriff's investigator and K-9 handler Matt Flynn has found Erin dead in the home of Erin's husband Justin who she is separated from. Justin is nowhere to be found. Bree is determined to find her sister's killer.
Matt Flynn and his police K-9 Brody were shot during a police operation. Due to their injuries both Matt and Brody were relieved of duty. Matt and Justin have been friends since grade school. Matt has been supporting Justin during his fight to shake off his addiction to OxyContin following a major injury in an automobile accident. That's how Matt ended up at Justin's house. He was driving Justin to his NA meeting. Of course suspicion of guilt was attached to Justin. The spouse is always a prime suspect in these cases. But Matt just knows Justin is innocent. He would never hurt Erin. Matt wants to find Erin's killer and prove Justin innocent. Looks like his best plan is to work with Bree Taggert. This will be interesting.
This story is an edge-of-your-seat page-tuener! The action is fast and furious. There's plenty of pulse-pounding suspense. Kudos to Melinda Leigh on this powerful thriller.
Book Info:

Publication: March 17th 2020 | Montlake | Bree Taggert #1
A homicide detective's violent family history repeats itself in #1 Amazon Charts and Wall Street Journal bestselling author Melinda Leigh's novel of murder, secrets, and retribution.
For more than twenty-five years, Philadelphia homicide detective Bree Taggert has tucked away the nightmarish childhood memories of her parents' murder-suicide…Until her younger sister, Erin, is killed in a crime that echoes that tragic night: innocent witnesses and a stormy marriage that ended in gunfire. There's just one chilling difference. Erin's husband, Justin, has vanished.
Bree knows how explosive the line between love and hate can be, yet the evidence against her troubled brother-in-law isn't adding up. Teaming up with Justin's old friend, former sheriff's investigator and K-9 handler Matt Flynn, Bree vows to uncover the secrets of her sister's life and death, as she promised Erin's children. But as her investigation unfolds, the danger hits close to home. Once again, Bree's family is caught in a death grip. And this time, it could be fatal for her.