Cross My Hart by Clare Connelly: Have you ever given your heart to have it thrown back in your face?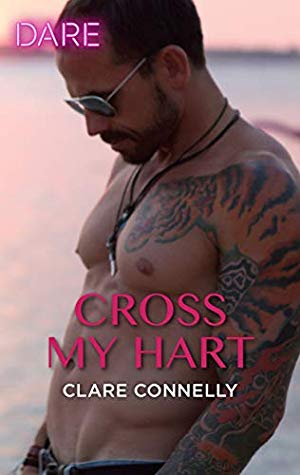 Or what's worse to have believed in love to realize your partner didn't?
Grace Llewellyn had… and it was hard since the man she loved was her partner in everything including her business. She had to make this next deal, she had to buy him out and start life on her own. That is after she figured out a way to get him out of her head and start living life for her again. Maybe it would be some drinks or perhaps a man but on the eve of the traitors wedding she would find a way to banish him from her head.
Jagger Ryan Hart, well he was just determined that love didn't exist. Sex, and great sex at that did, but everyone wanted something. What was the final game? Money, connections, fame? There was always a catch. The examples from childhood and now his ex wife were all prime examples of what "love" was these days. So from now on he was going to stick with sex.
A one-night stand was just what Jagger and Grace needed, or so they thought.
Best laid plans and all though, well that wasn't to be… what happens when reality sets in on the morning after?
Wow. Ms. Connelly has started off this DARE trilogy with a bang. The characters are very realistic and pop off of the pages while the drama draws you in and won't release you even as her epilogue sets up the next book. Don't fret though Jagger and Grace get their HEA. If there is one complaint it would be that the POV switches throughout the novel, while usually easy to follow, have a couple that will make you scratch your head to see who you are reading as. However overall the book is like a waterfall where the story flows beautifully hitting a few rocks to make the ending even more brilliant and spectacular.
Book Info:

Publication: Published September 1st 2019 | Harlequin Dare | Notorious Harts #1
"Three days for business. And three nights for pleasure…"
Has she made a deal with a sexy devil…or a wicked god?
What I need is distraction. A temporary break from thinking about my ex-boyfriend (and business partner) getting married tomorrow. Then I see him. Jagger. A beautiful blond god who's a 100 percent pure hot, hard-bodied distraction. Tonight, I'm forgetting my heartbreak and business woes with this gorgeous Zeus of a man, who fills me with heat, fire and delicious aching need…
That is, until I meet my new real estate client the next morning—the one who holds my future in his hands—and oh, God. It's him.
Now I have three days to sell a luxury golf resort to billionaire Jagger Hart. And all I want is to get him out of his clothes and between my sheets! A feeling which Jagger shares. By day, we're all business. But at night, it's a tornado of ripped clothes and insatiable lust.
We just have to keep our two worlds separate.
Only, now I'm in danger of falling for the one man I definitely cannot have.
Because Jagger doesn't believe in love—ever—and he's a man of his word. Cross his heart.