Love on the Sound is the fifth book in the McKinnie Mail Order series by Ciara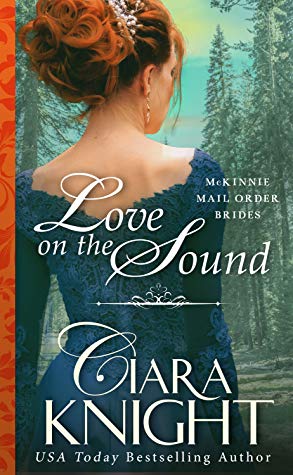 Knight. This was a new author for me, and I wasn't certain about the book. Once I started reading it, I found myself having to finish it and not wanting to put it down. It was well written, grammatically correct, had a good story line, great characters, and flowed smoothly. The series is based on the McKinnie sisters who after the Civil War become mail-order brides in order to survive. Each sister goes to a different part of the U.S. and this book is about Francine McKinnie, who ends up going to Seattle, Washington.
Francine McKinnie had switched mail-order betrothals with Elizabeth, one of her sisters, because she was afraid of the journey being too much for Elizabeth's health. Francine traveled by ship for six months and finally arrived at the Puget Sound area. She had survived violence and starvation in Georgia during the Civil War and all she wants is to have a husband who is loving, caring and will treat her with respect. When she meets her intended husband and he is fighting with another man, she is afraid she has made a bad decision signing a contract as a mail-order bride.
Walter Hunt had come home from the Civil War to discover his twin brother, Thomas, had married the lady who had promised to marry Walter. The relationship between Thomas and Walter has not been the same since. Walter follows him brothers to Seattle to try and mend their relationship and to help with their logging business. Walter needs a bride so he can claim more land, making him an equal partner in the family logging business. He is determined that Thomas not ruin his chance at getting more land.
Francine's first encounter with Walter frightens her and she decides to find a job and another man to marry. For her safety, the Hunt brothers convince her to go home with them and work there while she is deciding her future. Can Walter convince her to marry him before Thomas can convince her otherwise?
Francine is a strong woman who had to learn to take care of herself and her sisters after their parents and brothers died. She would rather make her own way than be reliant on someone else. Walter's respect for Francine grew as they spent more time together. He wanted a marriage with a woman who could also be his partner, but he needed to find peace with himself first in order to control his emotions.
This book was interesting to read and was great as a stand-alone. Reading it raised my interest in the other books in the series and I would love to see Thomas find his happy ever after. The Hunt brother's relationship was rocky, but their love for each other was there, it was just buried under all the pain from the past.
Book Info:

Publication: November 5th 2019 | Defy the Dark Publishing | McKinnie Mail Order Brides #5
Southern Belle, Francine McKinnie, faces a difficult life as a logging man's wife after sacrificing her mail-order proposal to a cattle baron for her sister's sake. A decision she's comfortable with as long as her husband is kindhearted and soft-spoken. But when she arrives to discover intended striking another man, she seeks shelter with his brothers.
Walter Hunt followed his brothers across the country only to discover his own kin stole his woman and his land, now he plans to fight for what's his. When his mail-order bride is manipulated by his siblings. Walter realizes he wants nothing more than to break the chains of family and strike out on his own. The only issue is that he'll have to overcome his hermit lifestyle and learn to schmooze investors in order to start his own sawmill