Crossing Hope (Cross Creek #4) by Kimberly Kincaid : I am sad to see the Cross Creek series come to an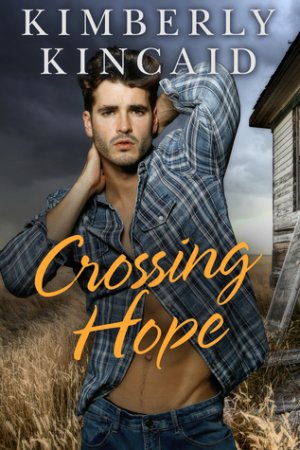 end, but I have to say, what an ending! Kimberly Kincaid takes the reader on an funny, heartfelt and amazing journey. I have loved each and every character that we have meet in Millhaven and on Cross Creek in particular, but I have to say, there is a very special place in my heart for Marley and Greyson. This is their amazing journey to HEA!
Marley Rallston came to Millhaven to meet the father that she did not know she had. Fulfilling the promise she made to her late mother to meet the man that helped give her life. Marley keeps her new found family at arms length, she figures if she keeps everyone at arms length she will not feel, if she doesn't feel, the she won't feel the pain of loss. But when Marley steps in and takes the responsibility for stealing canned goods to protect a young girl, she had no idea that her life would be turned upside down, and by none other than Cross Creek archenemy Greyson Whittaker.
Greyson Whittaker has always pushed first. He knows what everyone thinks of him and his family, he has heard time and time again that the apple does not all far from the tree. In Greyson's case, it is not very true, but he has a reputation of being prickly and cold, so why bother to change that. When he finds himself in front of the Judge for unpaid parking tickets, the last thing that he ever thought was that he would be punished with community service, and to be forced to perform that community service with Marley Rallston, another cherry on top of his stupid sundae.
But at Greyson and Marley are forced to work together taking care of stray animals, opening up to each other, learning to trust each other, a friendship builds to something more. But she is a Cross and he is a Whittaker, how will it ever work? When Marley learns some information about the family that she is starting to open up to, she gets scared and runs for the hills. It will take the Cross boys to bring Marley home where she belongs, and it will take the entire family to help her convince Greyson that her running days are over and that she is right where she belongs, in Millhaven and with him.
OMG! Let me start by saying that I love, love, love Marley and Greyson. The way that he stands up to his father to defend her and the way that she threatens her brother if they lay one finger on Greyson was absolutely amazing. The conversation between the Cross boys, Tobias and Marley had me in tears. The love that was between the Cross family, the love between Greyson and Marley was visible on every single page of this book. They are both so much alike it is almost scary. They both want so badly to belong, to be heard, but they are both equally scared of what will happen if they do. That they each trusted the other to be there, to catch them, to have them is a testament to the love that they had for on another.
Another amazing addition to the Cross Creek series. Highly recommended reading for anyone that loves a little small town romance.
Book Info:

Publication: October 15th 2018 | Cross Creek #4
Marley Rallston would rather be anywhere other than too-small-for-a-map-dot Millhaven, Virginia. But thanks to a heap of debt, what was supposed to be a quick trip to fulfill her mother's dying wish has turned into an extended stay with the family she never knew she had and the father who never wanted her. To top it off, now she's being forced to do community service with the town's biggest bad boy, when all she wants to do is make enough cash to get out of Dodge? Life can't get much worse.
The only thing Greyson Whittaker cares about is his family's farm. He'll do anything to keep Whittaker Hollow in the black, including live up to his rough, tough reputation by running the place by himself, no matter the cost. Mandatory community service with the daughter of their biggest rival is the last thing he wants or needs. But the more time Greyson and Marley spend together, the hotter their attraction burns, and the more the unlikely pair begins to realize that forbidden fruit just might taste the sweetest…