Rescued by Christmas by Erika Marks: What six-year-old little boy who thinks he has Santa staying in his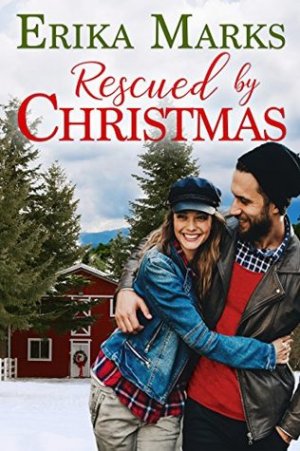 barn to grant his Christmas wish to heal his rescue horse, Twisty would be able to keep the secret and not tell his friends in kindergarten?
Little Ollie O'Keefe does just that. He truly believes that the man he found in the family barn is Santa Claus. But of course it's not Santa. It's popular pop star singer Jackson Wilder who crashed near the barn during a snow storm on his way to a vacation rental in the Colorado mountains. He is a little injured and stranded there while the storm rages. Jackson has just finished playing the part of Santa while filming holiday commercials and has to leave on the Santa suit to escape the fans gathered outside the studio. He is looking for some peace and quiet so certainly doesn't want any fans trying to follow him. Those fans were looking for Jackson Wilder not Santa Claus. Ollie's mom Miranda O'Keefe, who is the local vet and also runs Free Spirits, a horse rescue project, asks Jackson to play along as Santa to not disappoint her little boy. The thing is this Santa comes to really like Ollie's mom. So in the end Jackson Wilder turns out to be the best Santa ever for Miranda and Ollie.
Rescued By Christmas is a sweet Christmas story filled with fun. Erika Marks tells a Christmas tale that entertains and warms the heart. Her characters are charming and the storyline is all about Christmas. That's what I really liked about this story. It's a Christmas story that wraps the meaning of Christmas into it as well as the joy and traditions of the season. This is truly a "make you feel good" story. A perfect read to get into the Christmas spirit!

Book Info:

Publication: September 25th 2018 | Tule Publishing |
All pop star Jackson Wilder wants this Christmas is a few weeks out of the spotlight in a rented cabin in the Colorado mountains. But when a blizzard leaves him stranded on a country road on his way out of town—and still wearing the Santa costume from a last-minute commercial shoot—he takes shelter in a nearby horse barn to wait out the storm.
Miranda O'Keefe will be lucky to get a wreath up on her door this year. Between raising her six year-old son, Ollie, running her vet practice, and getting her horse rescue project off the ground—Christmas will have to take a back seat. But when Ollie tells Miranda he's found Santa Claus asleep in their horse barn—and has asked Santa to heal his beloved rescue horse Twisty—the self-reliant single mother finds herself asking for a stranger's help to grant her son's Christmas wish.
But when attraction turns to affection, will love come to the rescue this holiday for Miranda and Jackson too?