Crowned for His Desert Twins by Clare Connelly is a wonderfully emotional story which I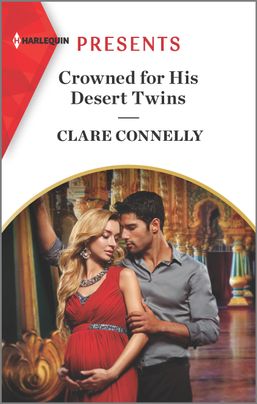 couldn't put down. The drama and emotion in the first chapter is next level and the pace of the story was non stop until the lovely conclusion.
Although hurt by Khalil's unfounded rejection after the most incredible night, the inner drive to do the right thing leads India to Khalil's home land to deliver the news their night made her pregnant. Realising the impact this news, Khalil concludes the only solution is marriage.
This story is so much more than just an arranged marriage story. It's a journey of two very likeable people who clearly have feelings for each other. Khalil and India's journey to happy ever was page turning. I enjoyed this story because Clare Connelly wrote two very enjoyable characters and gave them plenty of opportunities to grow together and fall in love, even though Khalil fought it till the end. They had plenty of dialogue and I loved how human Khalil was and how he went with his instincts.
The words flowed beautifully I this story and I truly felt the love. The emotion was cleverly captured and I was fully invested. Clare writes wonderful Sheikh's and she nailed it with Khalil. He was redeemable because he was written beautifully. India complimented him and together they made an outstanding pair.
I thoroughly enjoyed Crowned for His Desert Twins, the blurb only barely touches the essence of this marvellous story and I was sad to finish it.
Book Info:

Publication: October 2021 | Harlequin Presents |
Her only option:
A royal marriage to the sheikh!
To become king, Sheikh Khalil must marry before his thirtieth birthday. But first, a mind-blowing whirlwind night with India McCarthy that neither can resist! When India reveals she's pregnant with twins, a ring is the only way to secure the crown and claim his heirs.
India would rather accept a convenient proposal than subject her children to an absent father, even though she longs for more. Yet as their desire explodes into ever-hotter flames, this royal union could blaze into the opposite of convenient…