Cutter by Ashley Suzanne: Cutter had a hard life that only got better when he was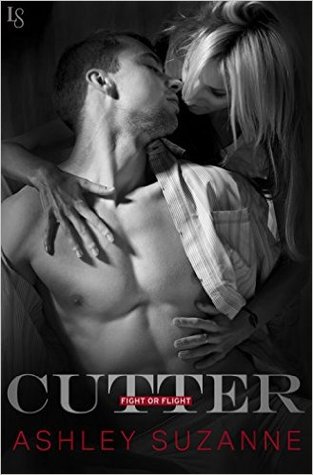 caught breaking into a gym. By getting caught, he found a family, a job, and an apartment he could call his own. He was pretty happy with life until he met Josette. They began as friends and he ended up as a MMA fighter as a way to impress her.
"Wait a second, Cutter Greer. Have you been a closet romantic this entire time?"
"And if I have?"
"Then I'd have to say you're right. We probably were made for each other."
Cutter and Josette have great chemistry and they spend a lot of time together as friends. They eventually transition into more of a friends with benefits relationship as both are concerned about maintaining their friendship, but they also have their own dreams to pursue. Cutter does really well in the local MMA matches and Josette is looking forward to working on her college degree.
Once inside the car, she automatically goes for the radio and I playfully slap her hand away.
"Tsk tsk tsk, Jo. My date, my rules."
"You're impossible." She sighs, and I chuckle. If only she knew.
Things begin to change in their relationship about the time that he's being scouted for the next level. Cutter goes after what he wants, but he's torn about leaving for Vegas. He doesn't want to lose Josette, but he finally has a shot to be really successful. When it comes down to it, Josette makes a decision that changes them.
Three years later, Cutter is back. He's found fame and become a very successful fighter on the MMA circuit. He still thinks about Josette as the only woman he's ever loved. Their chemistry is just as strong as it was years ago but lies and betrayal lie between them.
Cutter is a steamy fighter romance. Ashley Suzanne created a great character in Cutter who is protective, possessive, and goes after what he wants. Ms. Suzanne provided great characters in Garrett and Rian as Cutter's chosen family. Fans of Jennifer Snow and Jennifer Fusco will enjoy Cutter.
Book Info:

Publication: July 5th 2016 | Loveswept | Fight or Flight #2
Ashley Suzanne follows up Raven with the next round in her scorching Fight or Flight series—the story of a damaged MMA fighter from the wrong side of the tracks, and the sizzling affair that forces him to grow up.
Cutter Greer lives at the gym—literally. Abandoned by his parents as a teen, Cutter dropped out of high school and ended up on the streets. In a simple act of kindness, mixed martial arts trainers Garrett and Rian put him up in the apartment above their gym. Now he's got a surrogate family and a shot at MMA stardom—but he still has a lot to learn about women. And he certainly isn't prepared for the earth-shattering consequences that desire can bring.
Josette Morelli believes that she and Cutter have something special—more special than just being hot in bed. So when Cutter is scouted to go big time, the thought of being left behind scares her. And then Josette learns a shattering truth that could change everything between her and Cutter . . . unless she learns to set him free. Instead, she tells a lie that destroys their chances at happiness—and forces them both to fight for a future neither knew was possible.