One Night with the CEO by Mia Sosa, immediately captured my attention with its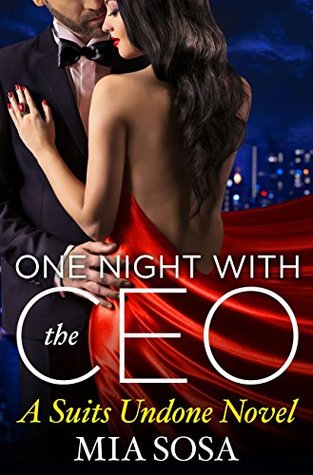 bold cover. The cover might have seized my attention, but it's the characters I fell in love with. This is book two in The Suits Undone Series and can be read as a standalone. For those who've read the first book, this one revolves around Gracie's baby sister, Karen and Ethan's best friend, Mark.
Karen Ramirez is about to start medical school and needs to relax. Once she starts school she will have no extra time to devote to anything, especially men. She refuses to lose her focus and is dedicated to her studies. When Karen goes to club to have some fun with her sister, she meets Mark Lansing. To say that their first introduction to each other is memorable, is putting it lightly. Both of them are immediately attracted to each other and let their guard down, until they find out exactly who the other really is.
Gracie's baby sister is off limits. Besides, there is an age difference between them that he's not comfortable with. Even though Karen heats up Mark's temperature like no other, he can't afford to go there. His plan is to ignore her…but the universe has other plans for them. Gracie and Ethan are getting married and the wedding will be in Puerto Rico. As bridesmaid and best man, both will be in close range of each other. They both quickly realize that they can't ignore each other, so they decide to make the most of their trip and give in to their attraction.
The author does an amazing job making feel Mark and Karen's chemistry. I had no doubt what so ever that these two belonged with each other. They both have their ups and downs to work out, but ultimately they need each other and it's only a matter of time before they both realize it.
The writing itself was on point. The characters were well-developed and the romance between Mark and Karen was the focal point. I can't wait until the next book in this series is out. Highly recommended!

Book Info:

Publication: May 3rd 2016 | Forever Yours | The Suits Undone #2
TWO TICKETS TO PARADISE
After some disappointing dates, Karen Ramirez has concluded that great sex is for other people. Especially since medical school won't leave her much time for romance anyway. Then she runs into tall, dark, charming, and ridiculously wealthy Mark Lansing–and quickly reconsiders celibacy. Adding to temptation? Mark will be the best man at her sister's wedding and the nuptial destination is sultry Puerto Rico. Now this trip might just be sensory overload–or the perfect chance for Karen to find the groove she's never had.
For CEO Mark Lansing, his perfect match would be smart, sweet, and funny, with long legs and silky hair the color of dark chocolate. In short, someone a lot like Karen. But Mark's looking to settle down, while a relationship is the last thing on Karen's mind. So Mark proposes a plan: he and Karen will use their weekend in paradise to sizzling advantage–before downshifting to friendship. The only problem? Karen is all Mark can think of when he gets home. Now his most challenging negotiation will be for the one thing money can't buy . . .