In Daddy Unexpectedly by Lee Mckenzie, Claire DeAngelo has always dreamt of having a family of her own and having her house with a white picket fence but her ex-husband had other ideas that put her dreams on hold. Now alone again she will start to build her life the way she wanted it to begin with.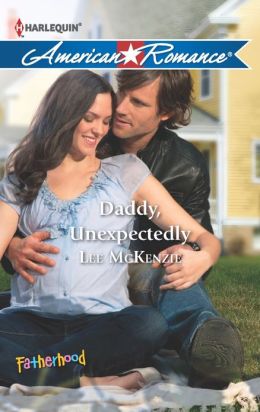 Luke Devlin and Claire were study partners while in college. He was attracted to her back then, but he didn't want to ruin their friendship as most other relationships in his life, so he never acted on it. Now finding her while being undercover may be the perfect opportunity. They can connect again and since her window is directly across the building he needs to place surveillance from she is also his perfect cover.
But when he realizes that her ex-husband is showing stalker and harassment behavior, he knows that he wants to keep her safe and one way is to be close to her and protect her himself, especially since she does not believe her ex-husband can be dangerous. So now he will stay close to her and the closer the better. But as their relationship develops, so does the arrest of the person they were trying to capture. And his lies by omission may just ruin his chance at true love for Claire may not be willing to forgive that easily. Only the baby that she is expecting may be able to bring them back together, but first he must prove to her how much she really means to him and with the help of her friends he may just be able to do that.
If you like an exciting, fun and sweet romance of friends to lovers, you will love Daddy Unexpectedly.
Book Info
Publication Date: May 7, 2013 | Series: Harlequin American Romance (Book 1452)
From Friends To Lovers To…Parents?Claire DeAngelo's fantasy was the white picket fence and a husband and babies. She thought she'd found it, but now she's getting a divorce. Her ex's behavior is bordering on harassment, so it's lucky Claire runs into her college buddy—now undercover cop—Luke Devlin.Luke can't believe his luck. He's investigating a smuggling ring, and Claire lives in the building he has under surveillance. What better way to keep an eye on the criminals than to move in! When Claire's ex becomes hostile, Luke's protective instincts take over and the attraction between old friends heats up.
Back in college, Luke was a carefree playboy. So when Claire discovers she's pregnant, she knows better than to expect Luke to be family material. She's finally getting that white picket fence and a baby…even if there's a piece missing!