Hot and Bothered by Linda Cajio is a sweet, fun and intriguing romance that will keep you wondering what comes next.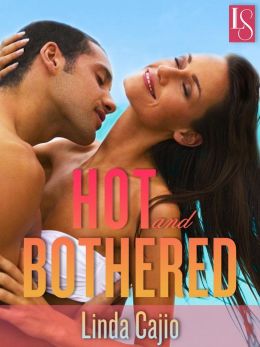 Judith Collier is running away from her life and hiding from her family until she makes up her mind. She just inherited her great aunt's shares of the family company, something she never wanted to get involved in, and now she must decide if she wants to sell the company or keep it. A decision she wants to make on her own and not be pressured by her family to either give them full authority over her shares or vote their way.
Paul Murphy has been living a very simple life in the cove in Baja since a tragedy left him feeling unable to be part of the LAPD anymore. People judged him without knowing what really happened, he couldn't subject his family or his daughter to that anymore, and he believes that being way from them is the best choice for everyone.
When Judith arrived in the cove, she believes it would be the perfect place to hide, it's in a poor area and a place where her family wouldn't expect to look for her. At first she may be taken advantage of, but as she grows closer to the locals she starts to learn the meaning of living the simple life.
Paul and Judith don't immediately look eye to eye on matters, especially since he knows she is hiding from something or someone, and he doesn't want to get close to anyone again. But as they spend time together their attraction and chemistry becomes undeniable.
But as it get's closer to the time when she has to go back to San Diego for the meeting, it looks like someone is looking for her and getting really close, but that someone is not part of her family and is out to hurt her. It is up to Paul to keep her safe and try to find out who is trying to harm her before he looses his chance at love again.
If you like a fun romance with a little mystery and intrigue you will like Hot and Bothered by Linda Cajio.
Book Info
A Loveswept Classic Romance
Publisher: Loveswept (May 13, 2013)
Judith Collier is running away from her life. She needs peace and quiet to focus on a very difficult decision, and except for the distinct lack of any kind of modern amenities, the isolated cove in Baja seems just about perfect. Judith knows that her wealthy and demanding family will never think to look for her in such a secluded spot. But there's one major distraction: The most gorgeous man she has ever encountered lives in this cove. And Judith can't escape from the reality of her physical response to him.
Paul Murphy has no interest in babysitting Judith. He came to the remote Baja village to heal from tragedy. Leaving the LAPD after ten years on the job, ending his marriage, and losing contact with his young daughter has left him with a stone-cold heart. And yet, this beautiful stranger just may have the power to shake his foundation to its core—and remind him what it's like to believe in love again.