In Isle of Sensuality by Aimée Duffy, Caitlyn Hart is filming her first movie after many years working in a soap opera. The only bad thing is that her co-star is a week late and has been keeping the shooting on hold until he arrives. She can't have any delays if she is to make it to her sister's fashion show, something that she will not forgive Mr. Hot Shot Campbell if she misses.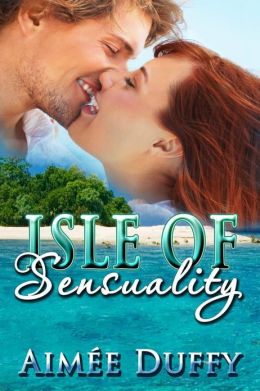 Jake Campbell has been dealing with helping his brothers with the family company for the past week. He is tired of saving it when it is bound to fold, but they won't sell no matter what he tells them.
When Jake finally arrives in the middle of a storm to the island in Rio de Janeiro for the filming, Caitlyn will not let things go as easily and will make her point to him about being irresponsible. But when she arrives at his door she finds him way too charming.
Now as they are to work together for three months as co-stars in this movie, Caitlyn and Jake rub each other wrong in the way that he treats her as what he believes of her, a diva. And she treats his as Mr. Hot Shot, until they start seeing the real person behind the publicity and their own believes.
The attraction and chemistry is instant, but Caitlyn will not accept it immediately, she is still afraid of close contact with any male. While Jake will do almost anything to charm her and get her out of his system for she is in his mind all the time. But when their past come to light it will take courage to move forward and take the chance to make something better of the future.
I have to say that this book was hot, it was fun to read and I loved that Caitlyn and Jake have very good and deep family values. The scenes are very realistic and the settings just makes you sigh and want to be there. Caitlyn and Jake will keep you hooked and wanting to know more as well as rooting for them so they can get their HEA. They may be scarred from their past but if they are willing (and they are) they can help each other heal and move into happy future together.
If you like a hot, sweet and fun read that will keep you entertained and make you cry and laugh as well, then you will like Isle of Sensuality by Aimee Duffy.
Book Info
Publisher: Beachwalk Press, Inc. (January 18, 2013)
Who knew being with Mr. Wrong could be so right?
Caitlyn Hart is shooting her first movie, and she doesn't want to screw it up. Still, she's on a deadline and when her co-star, Mr. Hot Shot Campbell, holds filming up, he's immediately on her shit list. But she can't ignore his charms for long or the overpowering want she feels for him. Even though she knows he's her Mr. Wrong, she doesn't mind him being her Mr. Right Now. If only her silly heart would stay immune.
Having been burned once, Jake Campbell doesn't have the capacity to love, but that doesn't mean relationships of a purely sexual nature are off limits. After all, a man has needs. His sexy co-star with fire red hair and a passion to match ignites his own desire and he sets out to convince her a fling is the only way to scratch the proverbial itch. Little did he figure that she'd be the one to penetrate the thick scars on his heart and make him feel.