Daisy Chains by Serenity Woods: Daisy is conflicted. She's believes she's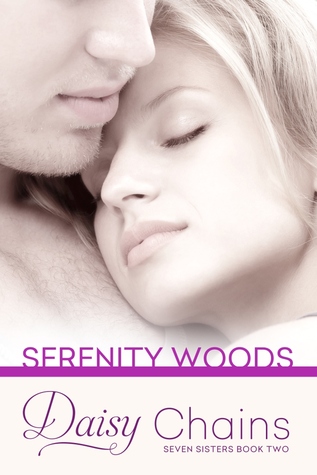 in love with Reuben, a suave and wealthy man working in the investment industry. While their relationship seems to be on the rocks, she's determined to try to make it work even though she can't stop thinking about and comparing Reuben to her ex-boyfriend Chase.
Chase is good friends with Daisy's brother and he's still hopelessly in love with Daisy. He works in the family construction business while dreaming of becoming an author. Since their breakup, Chase has re-evaluated his life and found a new focus.
Reuben loves the idea of Daisy on his arm as a potential trophy wife. He knows that they have problems and he's keeping secrets. He loves to go out with co-workers and enjoys the good life at bars and casinos.
Daisy really tries to get Reuben to open up to her and talk about the problems they are having. Reuben doesn't seem to get along with her family or make much of an effort to fit in either with them either. While Daisy and Reuben do come from very different places, Reuben values money and status while Daisy values security. Daisy and Chase seem to share a deeper connection and much stronger chemistry. Chase is a good guy and values Daisy's happiness, even as he tries to move on.
Daisy Chains is a love triangle about learning what true love and commitment really is. Reuben and Daisy have some growing up to do as they struggle through dealing with their relationship problems. Daisy seems to place not failing in a relationship ahead of her own happiness at times. Serenity Woods created three interesting yet flawed main characters. Ms. Woods provided an interesting secondary cast in Daisy's loyal and protective family, especially her dad and brother.
Fans of new adult contemporary romance will enjoy Daisy Chains by Serenity Woods.
Book Info:

Published April 28th 2015 by Lyrical Press
Chase Jackson turned every one of Daisy Summers' sexual fantasies into scorching reality. But it wasn't enough. Daisy needed a lover who provided more than just amazing sex. That he turned out to be tall, dark and wealthy didn't hurt. Problem is, her "perfect" man is now the perfect liar. When his secrets leave Daisy lonely and betrayed, she has nobody to turn to…except Chase.
Letting Daisy walk away was one of Chase's biggest mistakes. Now that she's back in his life—and in his arms—he's bent on keeping her there. But his past and her present are two shapes that don't fit…yet. Caught up in a triangle, Daisy's forced to choose between two men who've broken her trust before. Only now Chase is determined to prove he's changed his ways—and the one thing that hasn't changed is his love for her.