Sinful (Bitter Creek Series, #13) by Joan Johnston was about a second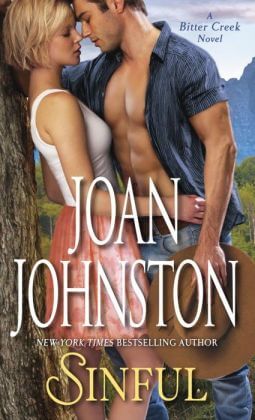 chance at love for Eve. All through school she secretly loved Connor. But their families were feuding and she could never go out with him. So Eve setup her best friend with Conner. They married and Eve suffered.
When her best friend dies she leaves behind two small children and her husband who doesn't know the first thing about the kids. He has just returned from the service. She needs a home and a place for her Mustang's, so Eve and Connor agree on a marriage of convenience. She needs a place to live and he needs help with the kids, but can Eve stay in a marriage where she loves Connor but he doesn't love her?
"Eve awoke with a start when she turned over and encountered a warm body in bed with her. She'd been dreaming of Connor kissing and caressing her and half expected to find him there. She sat up, her eyes full of sleep, her hair a mass of rats' nests, and smiled ruefully as she surveyed the two small forms on either side of her. Not Connor, but Connor's children. Sometime during the night Brooke and Sawyer had found their way into her bedroom at Safe Haven and into her bed."
Will they find the love that was lost? How will their families get along while feuding? Can they get past their guilt and have their HEA?
Eve and Connor's story was so emotional. I smiled through this whole book as I was reading it. The dialogue was so good, real issues were dealt with, especially regarding Vets coming home and needing a place to transition back into life, at their Safe Haven Ranch. Joan Johnston had so much understanding in her writing regarding the Vet's issues. It was wonderful to read a book with these issues addressed. I'm looking forward to the next installment in this series.
If you need a story about having a second chance at finding that special someone, this book is perfect.
Book Info:

Published April 28th 2015 by Dell (first published December 30th 2014)
After a tragic accident takes Delta sergeant Connor Flynn's wife, he faces the toughest fight of his life-battling his in-laws for custody of his two young children. He needs a make-believe wife to take care of the kids while he runs his Wyoming ranch. Who better than a woman he already knows and likes-his late wife's best friend? Forced to live under the same roof, Eve must hide a love that has never died, while Connor fights his growing need for a woman who was forbidden fruit during his marriage. Can two lonely people set adrift by fate and haunted by guilt find redemption in the healing embrace of love?