In Dance Away with Me by Susan Elizabeth Phillips, Moving to the Tennessee mountains is a new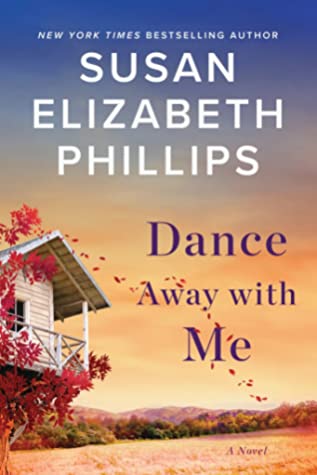 start for widowed midwife, Tess Hartsong. It's been two years since she lost her beloved husband and she's still fumbling through each day, filled with anger and a profound sense of loss. But Tess hopes Runaway Mountain and the nearby small town of Tempest will fill the void, giving her something else to focus on. She should be careful what she wishes for next time, though. Because it turns out her closest neighbor, well-known street artist Ian North, isn't a fan of Tess dancing away her troubles in her yard with the music blaring. Nor does he seem to like her stubbornness. It's a good thing Tess doesn't have to deal with Ian much. Until tragedy strikes.
"But how do you live life without those big emotions?"
"You just do."
"By making sure you never care too much about anyone else?"
"You're a widow, Tess. As much as you try to hide it, I know you've suffered. So tell me… How well did love serve you?"
Ian isn't really sure what to think about Tess, but she appeared in his life just when he needed a helping hand–as much as he hates to admit it. With his life in chaos, his art career at a standstill, and new responsibilities he's not sure he's capable of handling, Ian comes to rely heavily on Tess's strength and strong will. As gossip about them circulates with the locals and some of the outlying neighbors show up at the door wanting help, Tess becomes everyone's go-to person–even Ian's. Although it irks her at first, it helps fill her days with something other than sad thoughts of her husband. She even feels the beginnings of chemistry with Ian. Something Tess never thought would ever happen again. Maybe, just maybe, Runaway Mountain was a good place to escape to, after all.
He kissed her. The lightest brush of his lips on hers. He drew back and gazed into her eyes. "Say 'stop' whenever you need to."
"Go," she heard herself whisper.
"Don't let me rush you."
He couldn't rush something she'd been waiting so long to enjoy.
Quirky small-town charm and an intense relationship between two grief-stricken individuals made Dance Away with Me a unique reading experience from perennial favorite Susan Elizabeth Phillips.
'Grief was familiar. So was anger. They had both reshaped her. Now, staring out at this unfamiliar view, she wondered who she might be without the heavy weight of either.'
I'm going to be completely honest about Dance Away with Me: I have mixed feelings. And I waffled between giving this a 3.5 or a 4 star rating because of it. I generally love anything by Susan Elizabeth Phillips and will simply devour her books in one day. But I actually found myself putting this story aside a few times. It's not that I didn't like the plot or the characters. I definitely did. It was that the quick-witted humor I'm used to seemed a little…awkward here. It felt a bit disjointed having Tess or Ian joke, even briefly, in some scenes due to how dark the storyline was overall. Because for all the fun moments the offbeat locals brought to the table and the dry humor between Ian and Tess, this book did deal with some very heavy subjects.
Without giving away too many details, there were two deaths Tess and Ian had to contend with: Tess's husband who died two years prior, and one death during the first third of this book that affected both Ian and Tess–and which changed their lives greatly. I did like seeing the little ways they helped each other as they processed their loss. Most of the time Ian and Tess were at odds with each other, but the moments they connected were beautiful. It seemed like they were too different to get along at times, being that he was an artist and she was a midwife, but deep down they had a lot of the same beliefs and even interests. The spark of attraction was as much of a slow burn as was their romance. But it worked. And I think SEP showed how passionate they were as individuals and as a couple in a very realistic, sigh-worthy way.
A story about loss, new beginnings, romance, and small-town woes, Dance Away with Me was another memorable novel by Susan Elizabeth Phillips.
Book Info:

Publication: June 9th 2020 | William Morrow |
At long last, the legendary New York Times bestselling author returns with a heartfelt novel of womanhood, a wild heart, and the healing power of love.
Run, run, as fast as you can!
When life throws her one setback too many, midwife and young widow Tess Hartsong takes off for Runaway Mountain. In this small town high in the Tennessee mountains, surrounded by nature, she hopes to outrun her heartbreak and find the solace she needs to heal.
But instead of peace and quiet, she encounters an enigmatic artist with a craving for solitude, a fairy-tale sprite with too many secrets, a helpless infant, a passel of curious teens, and a town suspicious of outsiders, especially one as headstrong as Tess. Just as headstrong, is Ian North, a difficult, gifted man with a tortured soul—a man who makes Tess question everything.
In running away to this new life, Tess wonders— Has she lost herself . . . or has she found her future?