Taming the Big Bad Billionaire by Pippa Roscoe: The great wolf, that's what he is more commonly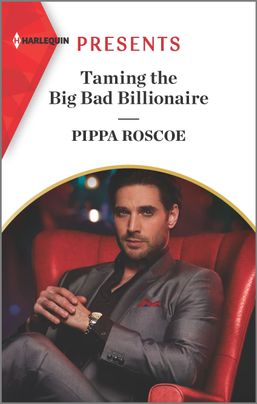 know as in the business world, Russia self made billionaire Roman, is determined to get revenge for they way his maternal grandfather Vladimir Kolikov discarded him and his mother years ago. Roman vowed to get revenge for his mother when Vladimir refused to help pay her medical bills.
This immense hatred only grew as Roman viewed the spoilt little girl, Ella, who Vladimir took in as his ward. While feeling that Ella had replaced the affection and care that should have gone to his mother, Roman decides to use Ella to get his revenge against Vladimir. With his mind set Roman goes about wooing the sweet Ella, going as far as following her all the way to France. With the help of a goofy cute rescue dog, Dorcas, Roman plan on softening Ella up to him with his warm dog-dad charm and all round new charming image.
"Seven hours ago he'd been interviewing for a canine companion at the local dog shelter—for what was more predatory than a single man alone in the woods? "
Using her increasing need for someone to lean on Roman worms his way closer to Ella so much so that he manages to convince her to marry him in a private ceremony. The only thing Roman was not banking on was developing feelings for Ella. No matter his new found feelings his end goal of revenge still stands strong, eager to use his new marriage as leverage against Vladimir, Roman soon finds that he had been played all along. Turns out Vladimir has always wanted to get his hand on Ella's family company and with Roman marrying into it, he has done exactly what old man Vladimir wanted.
When innocent Ella learns of the betrayal of both men in her life, she wants nothing more to do with either of them. With plans of having a quickie divorce Ella soon finds an unexpected pregnancy derailing her plans, forcing Roman and her to remain together. With both of them still feeling shortened by the way everything played out, the only question remaining is; will their feelings for each other bring them back together and heal new wounds.
"I will never make you doubt me, my love for you or our child, I will do whatever it takes, Ella. Because I love you. There is so much of it, there is no room for anything else. Not thoughts of vengeance, not the need to destroy. Just love. And all of it for you and our family."
I really enjoyed this play on red riding hood, Roscoe's has done a great job with this novel. I will say I did feel sorry for Ella, it seemed like she kept getting the short end of the stick with all the men in her life. As for our big bad wolf Roman, I actually liked his character, in that he did such a good job at hiding his true cunning nature. I will say that I did love Dorcus, who wouldn't love his cute goofiness.
I did find that there was a slight lag toward the last bit of the novel, but in saying that it really was not a major issue. I will say that I found the novel round out very nicely with the epilogue, giving us a very cute ending. Overall I really enjoyed this retake on the classic fairytale.

Book Info:

Publication: June 1st 2020 | Harlequin Presents |
A coldhearted billionaire
And the innocent to tame him!
The moment he spotted Ella Riding, Roman knew she would be his. Unworldly Ella was his grandfather's ward, living the life Roman had been denied. Ignoring his guilt at letting her fall for and marry him, he believed his revenge was faultless…
Ella may be naive, but she's no pushover. After discovering Roman's lies, she can't pretend their passion-filled marriage never happened. Instead, she'll challenge him. Roman might see himself as a big bad wolf, but she knows he could be so much more…