Dance with Me by Alexis Daria: Natasha and Dimitri have been hooking up for two years now, ever since they started working together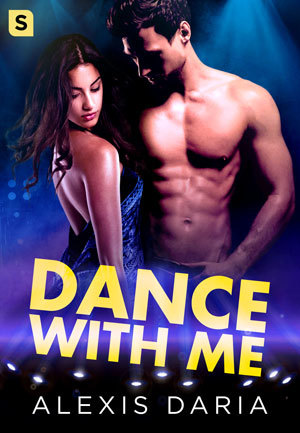 on the set of their dance competition TV show. Both want more, but neither has been bold enough to make a move; and Natasha in particular is set against leaning on anyone for help.
But when her apartment is destroyed and she's left broke due to a shopping problem and other disasters, Natasha finds herself stuck living with Dimitri, temporarily at least. Dimitri sees this as his chance to finally get to know the woman he's been obsessed with for years.
Natasha tries to keep their relationship platonic as she rooms with him, especially when it becomes clear her job may be in danger if she's seen hooking up with one of the judges, but living together and having Dimitri take care of her after she sprains her ankle forms a closeness she can't deny.
I enjoyed Dance with Me. For one, I think dancers are awesome and I definitely liked their world. Plus, Dimitri and Natasha were just hot for each other and together, and I felt their passion. My one issue with the story is the hesitance, especially with Dimitri. I like the hero who sees the woman he wants and goes after her. Dimitri was too insecure in himself and ended up waiting two years before making any strong move.
Even so, I found him endearing, and Natasha very stubborn in a cute way. While the author had a lot of plot threads, she weaved them well together. I remained interested the entire story, and I really enjoyed seeing new depths to Dimitri and Natasha as the story went on.
Overall, for those who love a passionate romance with an interesting angle of dance, I recommend Dance with Me by Alexis Dana. It can be read as a standalone, but you'll definitely want to leave this story and pick up the first.

Book Info:

Publication: December 7, 2017 | Swerve | Dance Off #2
The second book in Alexis Daria's dancing duology finds one playboy charmer falling for his new roommate.
Natasha Díaz is having a day. She's trying to prove she can make it as a professional dancer, but she's overworked, out of cash, and her roommate has just moved out. When she comes home to find a hole in her ceiling and her bedroom flooded, she's desperate enough to crash with the one guy she can't quit. She accepts his offer with one condition: no sleeping together while she's living with him.
Dimitri Kovalenko has never lived with a woman before. But when Tasha's in need of a place to stay, he suggests she move in without a second thought. He accepts her condition, hoping she won't stick to it. They're good together, both in the ballroom and the bedroom. Since their first dance, she's never been far from his thoughts. Sure, she's a pro and he's one of her show's judges, but they're not currently filming, so no one needs to know.
Living in close quarters shows Dimitri a side of Natasha he's never seen before, and he likes it. A lot. Too bad she's doing everything in her power to keep him at arm's length. When an injury forces Natasha to take it easy or risk her ability to dance, it's his chance to show her that the rules have changed, and she can trust him with her heart.