Dangerous Desires by J.T. Geissinger: Eva is a strong, independent woman who hasn't yet been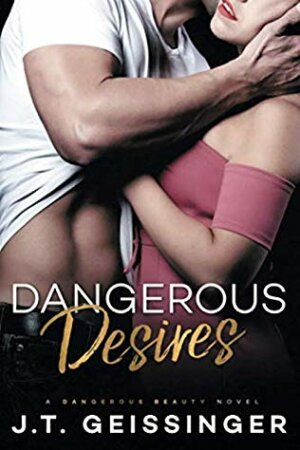 broken by life. She's prepared to sacrifice her life to save the life of the man she's grown to love. Eva has survival instincts honed by her time with her ex and she's not easily intimidated, but she walks into a situation she wasn't at all prepared for.
Naz is an alpha and protective to boot. Now that he's found a love that he never expected or thought he deserved, he will do whatever it takes to get Eva back. He's determined and a fighter and it helps that he has his employer and friends to support him all the way.
Since Eva walked back into Dimitri's clutches, both Eva and Naz are working to figure things out and put the pieces of the puzzle together…without each other. Both are tested as new players enter into this dangerous game where lives are on the line. Killian is an X factor with a ruthless cruelty and unknown allegiance and motivations.
Taking a breath and straightening her shoulders, she say, "I learned to read every muscle in a man's face and know with almost perfect accuracy what he's thinking. It doesn't work with women, though. Almost all of us wear careful masks. We pretend to be stupid and passive. It's like a leopard's protective coloring. We adapted to survive."
Eva uses all her skills, experiences, and backbone to deal with her new and confusing situation. Without trying, she intrigues Killian and draws his interest. Killian changes things and always seems one step ahead. Some answers are revealed as the mystery begins to take shape, yet the danger grows closer.
Because I'm no longer the girl who complies with commands.
"I know you're only thinking of protecting me, and I hope to God you won't take this the wrong way, but…sweetie…it's not up to you to decide. I wasn't asking permission."
Dangerous Desires is well-written, fast paced, and with surprises around every corner. J.T. Geissinger seamlessly brings you up to speed while advancing an intriguing plot. Ms. Geissinger continued to build on an interesting cast of characters and the romance between Eva and Naz. Fans of Shayla Black and Lexi Blake will enjoy Dangerous Desires.
Book Info:

Publication: August 20th 2019 | Montlake Romance | Dangerous Beauty #2
He's everything she has ever desired. But there's only one way to keep her man alive: let him go.
With Nasir's life on the line, Eva makes a deal with the devil. She slips away to return to Dimitri, the mob boss who held her captive for years, only to step into a new world of trouble. Abducted by one of Dimitri's most cunning adversaries, Eva finds herself an unwitting pawn in a dangerous game of cat and mouse.
When Eva disappears, Naz is prepared to do anything to find her. Tracking her to the remote regions of Portugal is just the beginning of the hunt. Bewitched by Eva's beauty, the darkly seductive spy who abducted her now has more than business on his mind, but the only way for the trio to defeat Dimitri is to work together…despite the explosive desires threatening to consume them.
With a game so deadly and the stakes so high, Naz and Eva's love will be tested in ways neither of them could foresee…or perhaps survive.