The Debt by Jackie Ashenden is a steamy, character driven romance and the first in the multi-authored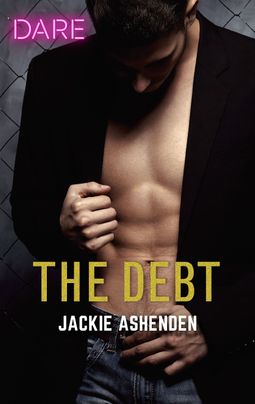 Billionaires Club series.
Car designer Ellie Little needs a favour from property developer Ash Evans. Her family business Australis relies on the investments from Ash's company and with returns lagging, they are worried that Ash plans to withdraw the funding that is keeping the business afloat. When not designing cars Ellie makes some extra money chauffeuring the rich and famous and she's signed herself on with the company that Ash uses in hopes she'll make it into his rotation. Sure enough, she gets the chance to drive him around Paris for two days and hopes to convince him during that time to keep his money in her family company.
Ash is impressed with his new driver, a cheerful woman who isn't intimidated by him or his wealth and who isn't afraid to speak her mind. When their mutual attraction leads to some back seat shenanigans, Ellie takes the opportunity to tell him her real purpose in being there. Disappointed that Ellie is more interested in his money than in him, it's a quickly terminated association. But Ash has a problem. He needs a 'girlfriend' for a business venture that will help him get revenge on his half-brother and he decides to offer Ellie a deal – play at being his partner and he'll keep her company funded. Ellie can't refuse, and not just because her family needs the cash. She can't stop thinking about their steamy time together. But what will happen when their fake relationship starts to feel all too real?
I loved this story! Ellie is a really enjoyable heroine. While she doesn't always get the support she needs from her father who didn't know how to raise a girl on his own when his wife died, she is still loyal to her family company and invested in keeping it solvent. She has design dreams with hopes to have her own electric car on the market. But she's also an excellent driver and uses those skills to make some extra money on the side. She's not intimidated by Ash even though she wants something from him, so she speaks her mind and it's this honest, refreshing approach that Ash finds as attractive as her person. Their instant chemistry results in a super smoking hot car sex scene. Then when it comes time to make the deal to benefit them both, it's no surprise that they keep up their sexual relationship.
Ash is also great hero material. He came from poor beginnings and struggled to keep things going after bad investments from his half brother Seb cost them everything. He's held a grudge against Seb ever since, something Ellie makes him reconsider. Once Ellie shares her design ideas with Ash, he's interested in making her dreams a reality, even if he is conflicted about entering a real partnership with her. He doesn't think he's worthy of her love and affection even though it's freely given. It takes him some time to realize what his life will be like without Ellie. Their path to a happy ending takes some twists and turns but is always entertaining! Jackie Ashenden has given the series a great start, here's hoping the other authors will continue the trend!
Book Info:

Publication: Sep 01, 2019 | Harlequin Presents | The Billionaires Club #1
Notoriously ruthless property developer Ash Evans never forgives a debt. And I have two days to convince the former street fighter not to pull his investment in my father's company. Taking a job as his chauffeur in Paris is the only way to get close enough to ask the bad-tempered billionaire for a favor.
With his sexy tattoo, scars and magnificently cut body, he's as powerful, sleek and difficult to manage as the sports cars my family designs. And after meeting his electric-blue eyes in the rearview mirror all night, I'm more than happy to rev his engine and take the boss for a ride!
But now Ash thinks I'm just using him to get what I want. And he'll give me what I need, but there is a price—posing as his girlfriend to help him exact vengeance on his half brother. Pretending to love Ash is the easiest job I've ever had…and soon my heart is racing into danger. Will a man so full of anger ever be capable of loving me back?