In Daniel's Decision by Nicole Flockton, Daniel Whitman has a plan to turn their hospitality retreat into a high-end eco friendly resort. But since his father and Adam just accepted the microbrewery Chad wanted, now they don't believe that this is the best time for any more changes. And then the fact that his father is dating their long-time housekeeper is not making things any easier for him.
So he after another argument with his family and feeling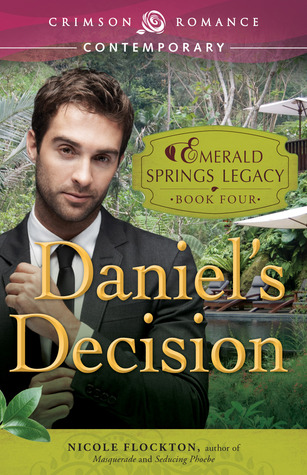 unsettled, he gets on a plane to Australia to visit an award winning eco friendly spa to test their services and formulate his plan of action in order to bring the services he wants in his mother's memory.
Rochelle Harris is the marketing manager and the brains behind the award-wining spa. Ever since her mother worked her father to his grave, Rochelle vowed to work hard, get to the top of her field and become financially secure so she will not need to rely on anyone. And having an American wanting to pick her brain and distracting her is not something she needs.
Daniel is immediately attracted to Rochelle and can't wait to learn as much as he can from her. But getting her to see him or open up is going to take some work, for Rochelle will avoid him as much as she can and send him to her assistant or anyone else she can if that's what it takes to keep him away from her. Only Daniel is not easily dissuaded or avoided, and he knows how to make things work his way even if he has to be a little sneaky about it. And using the old trick of making her jealous will make her seek him out then so be it.
Daniel and Rochelle have sparks flying from the moment they met, but while Daniel will try and follow and see where thing lead, Rochelle will try to avoid it at all cost. Especially considering she has already made a similar mistake once before and almost ruined her career. Now Rochelle only wants to concentrate on her job and rising on the corporate ladder, but ignoring Daniel and their chemistry is not something she can so easily ignore. But she will do her best to keep him from finding out her newest plans for the spa and ruining her career.
Only with a little time she will start to learn to trust him with her thoughts and her heart. But a mistake made in a hurry without knowledge may just ruin what was the beginning of something meaningful for them both. Daniel will have to prove to Rochelle that she is more important than her plans or her thoughts if he wants to have her in his life. While Rochelle will have to learn to forgive and trust her mother, Daniel and people around her again if she really wants to make her dreams come true. And a surprise they find in the end only make things the more sweeter, but you have to read it to find out what that is. 😉
If you want a fun and entertaining read, don't miss Daniel's Decision by Nicole Flockton.
Book Info:

May 5th 2014 by Crimson Romance
Meet Daniel, the fourth of five unforgettable characters in the Emerald Springs Legacy.
Life in the small town of Emerald Springs, Washington, is anything but slow and peaceful. An old feud between former business partners Whitman and Sanders keeps competition on a high burner, fueling resentment, renewing rivalries … and love. Now someone is trying to bring down Emerald Tea Farm, and it's up to both families to protect their future while still wrangling over the past.
Daniel Whitman has a plan to turn their hospitality retreat into a high-end eco-friendly resort, but his father and brothers think the timing is wrong. Against family wishes, he heads off to Australia to an award-winning eco-spa to test their services. He is immediately attracted to marketing manager Rochelle Harris but pushes it aside to concentrate on discovering what has made this resort so successful.
Rochelle is a career woman, whose mother who frittered away every single penny her father earned, putting him into an early grave. Now Rochelle's sole goal is to get to the top of her field and become financially secure so she won't need to rely on anyone. What she doesn't need is a sexy, attractive American distracting her from her plans.
The more time they spend together, the more the attraction grows. Then a disaster back home makes Daniel realize he has to step up to his responsibilities. But is Rochelle prepared to take the risk and relocate halfway around the world—and can Daniel open up and let someone be a true partner in his life?