In Lost (Dobbs Hollow #2) by Laura K. Curtis, former police officer Tara is searching for her missing friend. Knowing her friend was involved with the cult, Tara has spent 5 weeks on the compound of the cult "The Chosen". Although she has been unable to find anything definite out about her friend, the cult itself seems relatively harmless, and the people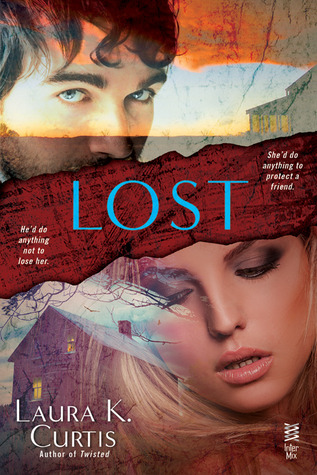 there happy.
Jake is a 'former' FBI agent who uses a fake cover to get into the compound. He was on a mission to find Tara for a mutual friend, and this is where his search led him. When he finds Tara, he wants to pack her up and go. His mission is accomplished, but Tara's is not. Tara is determined to find out what happened to her friend…and to do so she needs Jake's help. But to work together in the compound, they must pretend to have a past together. Once they 'admit' to their past together, they quickly realize things at the compound are not as nice as they seem on the surface. As they dig deeper, the danger becomes more real and the answers unbelievable. Dodging danger, their mutual attraction and relationship isn't as unreal as it once was and things between them heat up. As the danger gets closer and it's a matter of life or death, will they both survive to have a future together or will the evil lurking in The Chosen win?
Laura's portrayal of life on the compound came across as realistic. I like how she wrote about the cult, both the positives and the negatives. This set a good tone for Lost, as she manages to paint a picture of the compound that is easy to visualize as well as understand what the draw might be for some people to choose that lifestyle. Laura gives a variety of secondary characters who really add dimension to Lost.
I found the main characters somewhat difficult to really feel like I knew or connected with and I have a feeling that is because I have not read the previous book in this series (I was unaware of it until I started Lost). I felt like I had missed something for a good part of the book and a bit more background/explanation would have been helpful. I would highly recommend reading the first book in this series (Twisted) if you are going to read Lost. I feel like I would have enjoyed it a lot more, and maybe felt pulled into it a bit more if I had.
Lost is well paced and the general premise of the story line is good. Laura writes detail well, and the unexpected twists in the plot that catch you off guard will keep you guessing about what is really going on! I would recommend this series to romance readers who enjoy suspenseful plot twisting with just the right amount of heat between the characters.
Book Info:

Published May 20th 2014 by InterMix |  (Dobbs Hollow #2)
Tara Jean Dobbs was a Texas police officer until her friend Lucy Caldwell almost died on her watch. She's since left the force, left Dobbs Hollow, and vowed to never let a loved one down again. So when her best friend Andrea joins a seemingly harmless spiritual cult—only to disappear without a trace—Tara decides to find out what happened by becoming one of the Chosen herself.
Five months later, no one's heard from Tara, and FBI Agent Jacob Nolan is going after her. Taking a false identity, Jacob finds it surprisingly easy to play the part of Tara's boyfriend. But as they uncover the inner workings of the Chosen, they realize how much danger they're in. Because Andrea isn't the first follower to conveniently disappear—and they may be next.