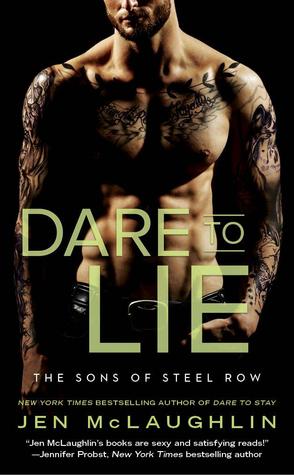 Dare to Lie by Jen McLaughlin: Scotty is determined to make a difference in Steel Row, a notorious section of Boston. Ever since going undercover in the Sons of Steel Row for the DEA, he's known that leading a double life would be difficult. He feels more alone than ever before and there's no end in sight for this assignment as long as he can maintain his cover.
Things were going well enough until Scotty was singled out for an assignment by none other than Tate, the leader of the Sons. Scotty has to take Tate's place in a bachelor charity auction that Tate's younger sister is running. It seemed simple enough until he meets the smart, determined, and loyal Skylar. Scotty planned to heed Tate's warning of staying away from Sky, but then she bids on him at the auction.
That brow rose again. "Yet you bid on a date with me?"
I shrugged. "I thought maybe we might get along. But you weren't interested in finding out if that was the case, and I'm done trying, so you can go."
"I'm sorry."
Scotty and Skylar had an immediate attraction and connection. Skylar is bold enough to pursue him, but Scotty knows the danger he poses. Skylar is a complication that he doesn't need as things are heating up in the ongoing gang war. Scotty wants to be a good man and turn her away, but he can only hold out from temptation for so long. Scotty has been living to serve others, but Skylar allows him to just be himself.
"I like you, too," I said quickly. "And everything else you just mentioned."
"But that's exactly why you shouldn't be here. I like you too much to hurt you, and believe me when I say this." He dropped his hands to his sides. "If you stay, if you keep coming back to me, I will hurt you. I promise you that."
Dare to Lie is thrilling, sexy, and dangerous. Jen McLaughlin ratchets up the tension and conflict as the lies, secrets, and body count rises in Steel Row. Ms. McLaughlin created nuanced and intriguing characters in a series that gets stronger with each book. Dare to Lie is probably best read in a series as each book picks up from where the previous book ended, but it could be read as a standalone. Fans of Kristen Ashley, Jessica Clare, and Sophie Jordan will enjoy Dare to Lie.
Book Info:

 Expected publication: February 7th 2017 | Berkley | The Sons of Steel Row #3
As an undercover DEA agent in the most powerful gang in Boston, Scott Donahue accepts the risks of living a double life. But when Tate Donovan, leader of the Sons of Steel Row, assigns Scotty to take his place in a bachelor's auction sponsored by his sister's sorority, he's exposed to a whole new level of danger. Even though Tate makes it very clear—Skylar is off limits—the second Scotty sees her, he's a goner. But how does he tell Sky she's falling for a man who doesn't exist?
Sky can't resist Scotty's cool confidence or the raw, edgy power oozing from his perfect body. She's always been the good girl, but he brings out the bad in her. And even though she knows so little about who he really is, Sky's willing to take the biggest risk of all. But putting her heart on the line is no guarantee that Scotty won't slip through her fingers…