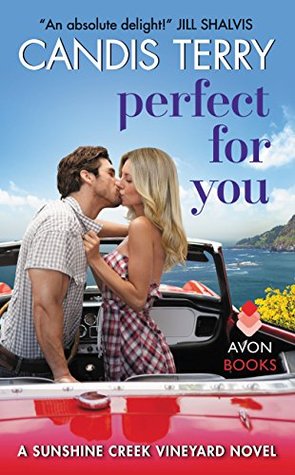 In Perfect for You (Sunshine Creek Vineyard #2) by Candis Terry, Declan Kincade hasn't been home to Sunshine, Washington for years, instead focusing on his career in finance in Southern California. But when tragedy strikes and he and his five siblings lose their parents unexpectedly, Declan begins to realize he needs to make changes in his busy but regimented life. And his executive assistant Brooke Hastings thinks a road trip up to Washington will set him on the right path. Although he longs to spend time with the blonde beauty, with her effervescent charm and intelligence, he doesn't want to cross the line between boss and employee. But when family secrets surprise him and his siblings, Declan finds that having Brooke there to help him process everything could lead to something much more than he was expecting.
"Teach me," he said, his voice rough from the spiraling passion.
Confusion moved across her face. "Teach you what?"
"How to dance in the rain. How to separate life from work. How to be the man you want and need me to be."
"Oh, Dec."
"Before you walked out the door the other night, you said you were perfect for me. You were right." He pressed his mouth to her cool, damp forehead. "Please teach me how to be perfect for you."
When Brooke started working for Declan she was immediately struck by his brilliant mind. And his incredible physique, if she's being honest. But four years of crushing on her boss is finally getting to her. So when the opportunity comes up to get to know Declan better outside of work, Brooke jumps at the chance. She's always wanted to take a road trip up the Pacific Coast–it's on her bucket list, after all–and who better to spend time with than the man she adores? And while her plan does get Declan to open up and enjoy life for a while, he just can't seem to get past their work relationship whenever desire flares between them. Brooke knows it's up to her to prove to Declan that they can have everything they want. If they're willing to give it a try and put the work in to make it happen.
…Dec had rearranged their chairs so they sat next to each other and both looked out over the creek.
"Clever." She grinned as she sat down. "Is this so if I don't spill my guts you can do me bodily harm?"
He uncorked the wine and refilled their glasses. "Keeping in mind that we are forgoing the boss/employee thing tonight, I have to be honest and say that there are a lot of things I could do to your body." He handed her the glass. "Harm isn't one of them."
Fun and flirty, entertaining and heartwarming. That's what author Candis Terry excels at and is exactly what we got with Perfect for You. Filled with the small town charm I crave in her stories, this also had a thread of family drama that was every bit as intriguing as the romance turned out to be.
'The more time he spent with her, the harder a time he had remembering the whole boss/employee thing. Every little tick of the clock he spent in her presence was rife with the temptation of hauling her against him and kissing her sweet lips.'
I really do have such fun with Candis Terry's books. They're lighthearted for the most part but there is always just enough emotional depth to keep me engaged and wanting to figure each character out. And I have to say that she creates some of the coolest, sigh-worthy alpha males and sassiest heroines in contemporary romance, which this newest series is chock full of so far. Thanks to those fiery match-ups, I of course get a kick out of the bantering she writes, and boy did Declan and Brooke have some comical–and some very sexy–interactions. It definitely had me giggling and kept things moving along quickly.
This story was actually a couple of tropes rolled into one. It was a boss/employee romance. But it was also an opposites attract story where Declan's business-minded ways balanced out with Brooke's fun-loving personality. I wasn't sure at first how they would work as a couple because they truly did seem so different. But it felt like Brooke was exactly what Declan needed to bring some laughter and enjoyment to his life. And it came at just the right time. He was feeling restless, personally and professionally, after having lost his parents, plus with a big new work endeavor on the horizon. Brooke knew it would do Declan good to get out on a road trip to clear his mind before dealing with his family issues. And it did just that. Well, aside from confusing him more about how to keep the line drawn between them as boss and employee. That's where the fun really began. 😉
Interestingly, both Brooke and Declan had somewhat darker problems in their background they had to overcome. Brooke's past was especially tragic and shed a bit of light on why she was so insistent on living life to its fullest and pulling Declan out of his rut. His siblings, once he arrived in Sunshine, were still feeling the effects of losing their parents and trying to sort out the mess the family business had become. But I loved that when they were all together, they were a strong group who were loyal and genuinely cared about each other. Yeah, they bickered and fought (which was highly entertaining) but as more of the family secrets came out, the Kincades stuck together and faced it like a team.
There was a lot to love about Declan and Brooke's sensual romance. Between their off the charts chemistry and their companionable working relationship, they were the perfect couple. I'm not sure which Kincade will get their chance at love next or what new revelation will come out about their family, but I can guarantee it will be worth the wait to find out!
Book Info:

 Expected publication: February 28th 2017 | by Avon | Sunshine Creek Vineyard #2
Meet the Kincade brothers: they'll do what it takes to protect their legacy—but what happens when love gets in the way?
Declan Kincade has spent so much time chasing success he's almost forgotten how to just live. Lately, though, his all-business routine has been thrown into disarray. Brooke Hastings is the best employee Dec's ever had: polished, capable, and intelligent. After four years, he's just realized that she's also smoking hot. But their working relationship is too valuable to stake on a fling, no matter how mind-bendingly pleasurable it promises to be . . .
What's worse than never meeting the right man? Finding him, and then working side-by-side every day while he remains absolutely blind to your existence. That is, until one temptation-packed road trip changes everything. Teaching her gorgeous, driven boss how to cut loose and have fun is the toughest challenge Brooke's ever faced. But it's one that could give both of them exactly what they need, if Dec will take a chance on a perfect—and perfectly unexpected—love . . .