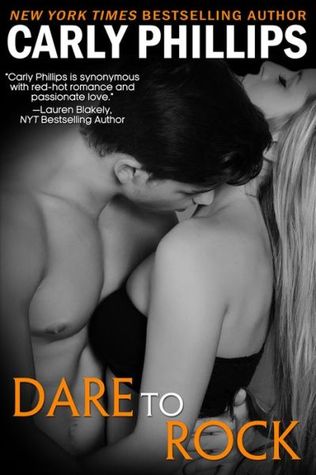 In Dare to Rock (Dare to Love #7) by Carly Phillips, Avery Dare tries every day to move past the stigma attached to the Dare name. Ever since her father announced he had another family when she was a young girl, she's been battling anxiety and feelings of abandonment. Then she lost her first love, Grey Kingston, when he left her to make it big as a rock star. Only now the superstar in back in Miami and wants to see her again. Avery isn't sure she can deal with his notoriety and fame. But she's sure Grey is the love of her life. Can she really let that go without trying?
"It's still there, isn't it?" she asked, needing to know the intensity was as strong for him as it was for her.
His darkened gaze met hers, and he stroked over her cheek with his knuckles. "Stronger than ever."
Grey has loved his life in music, up on stage. But dealing with his jerk of a manager and all the trappings of fame is getting old. Announcing the end of his band, Tangled Royal, and heading back to Miami will hopefully be the balm on his soul he so desperately needs. First, he needs to try to make up for what he did to Avery when he left so suddenly. The desire Grey feels for her has only grown over the years. But his chaotic life follows him home and he soon finds himself and Avery being threatened. Is being back in her life worth putting her at risk?
'While he was trying to cement himself in the very fabric of her being, she was holding herself back, preparing for what she perceived as an inevitable end. His heart nearly broke at the thought.'
Can it get much better than a rock star romance which is also a second chance romance, all in one? Carly Phillips was kind enough to give us readers a magnificently sexy two-fer this time in the Dare to Love series.
'In the short time he'd been back, he'd realized Avery still understood him in ways no one else did. She saw the fragile boy beneath the rock star persona and supported him. That was what Avery meant to him, did for him.'
I really enjoy Carly Phillips' writing style and Dare to Rock showcased it perfectly. The reunion portion of the story was tender, sweet and swoon-worthy, to be quite honest. But then there was the actual love scenes which were so hot that they bordered on erotic. If you add in the Dare family drama as well as Grey's crazy stalker, you have the recipe for a very exciting story.
Avery and Grey just clicked for me right away. They had this complicated past due to Grey leaving Avery to make it big in the music biz years ago. But through it all, they never forgot what they had together. They both knew it was special and unique. I loved that the connection they had before was even stronger upon their reunion. They shared a level of devotion that had me smiling and cheering them on the entire time through all the craziness in their lives.
Speaking of the craziness. There was a little bit of a suspenseful edge to this book, as with several of the previous ones in the series, with one of Grey's fans stalking both himself and Avery. I kind of figured it out fairly quickly, but there was still more to it than met the eye when it all played out. And Avery's anxiety issues that stemmed from her childhood came into play here as well. I thought she, more than Grey, had more room to grow, and she did a great job coming into her own here.
With likable characters, a sultry love story, and those fun and charismatic Dare siblings, you can't go wrong with Dare to Rock.
Book Info:

 Published August 4th 2015 | by CP Publishing | Dare to Love #7
Avery Dare lives a quiet life in Miami as an online fashion/makeup video blogger. She has good friends, a close, large family and if her love life is lacking, she likes it that way. But when she receives an invitation to one of her ex's concerts along with an invitation to meet him back stage, she decides to take the risk… and comes face to face with the reality of his rock star lifestyle – the press, the crowds, and the half naked groupies.
At eighteen, Grey Kingston left everything he knew and loved behind to seek fame and fortune as a rock star, and he found it as the lead guitarist and singer for the band, Tangled Royal. Fans adore him, women throw themselves at him, and he can afford everything he couldn't growing up. Yet at the height of his career, he's ready to walk away and return home to a simpler life… and the woman he left behind, if he can convince her to give him another chance.
Except moving on isn't as easy as Grey would like. When Avery is threatened by a stalker, it becomes evident Grey's fans not only don't want him to retire, they don't want Avery in his life either. And Avery isn't sure she wants the pressures that are part of Grey's life… but she doesn't want to lose him again, either. Can their recently renewed love survive the fallout?