In Dark Skye (Immortals After Dark #14) by Kresley Cole, Melanthe has never quite recovered the from betrayal she endured as a child at the hands of her former best friend, Thronos. They had to keep their friendship quiet as she descends from Sorceri and he Vrekener, who are natural enemies. Once their families became aware of their closeness, their lives were forever changed. Lanthe spends the next hundreds of years running from vengeful Thronos, while looking for someone who will love and care for her. Not take advantage and using her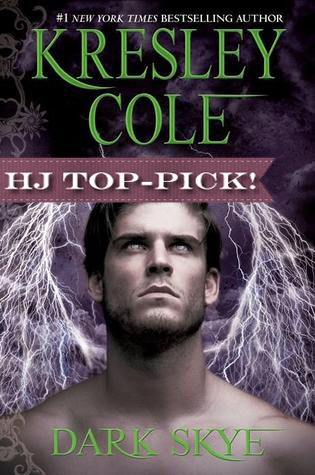 for personal gain. When they are thrown together during the current Ascension, they become embroiled in battles being waged over several worlds. Lanthe wants to understand what truly happened that dismal night so long ago, but she's afraid if she loses her hatred for Thronos, she just might find herself falling for him instead.
"Thronos, we have problems between us–gods, I know that–but lack of physical attraction is not one of them."
Believing his luck may have finally changed, Thronos is astounded when he catches hold of Lanthe during a battle. His feelings, as always, are conflicted when it comes to the sorceress. He wants revenge for the cruel acts committed during their childhood, but he is also drawn to her, his fated mate. As they set off on a quest to return to his home in the Skye, they encounter problem after deadly problem. Thronos finds out that that what he has always believed to be the truth, may not be the entire story after all. Can he possibly trust the bewitching woman after their years of fighting one another? Or is she only trying to trick and hurt him again?
"You belong to me. By right of pain, I've earned you!" Lightning struck, punctuating his statement.
When Melanthe explained her and Thronos's story as being epic, she wasn't kidding. Dark Skye is a tumultuous adventure with so much action, so many fantastical creatures/beings, and filled with so much emotion that I don't even know where to begin!
"I'd rather live in hell with you than in heaven without you."
Well, Kresley Cole has done it yet again. Just when I thought we'd seen the most complex romances played out in the Immortals After Dark series, along comes Thronos and Lanthe. Their love/hate relationship, which has spanned five hundred years, reached a boiling point in this installment. Ms. Cole did a wonderful job giving a voice to our main character's thoughts and the complicated emotions they had for each other. Even though I may not have agreed with the decisions they made, I was able to understand exactly where they were coming from, thanks to her descriptive writing. And I loved that she was able to highlight both their best and worst traits, using it to manipulate the outcome of each scene.
Thronos and Lanthe's lives have been horribly tangled up together, twisted by pain and mistrust. I found the origins of their childhood friendship to be absolutely lovely, almost fairytale-like, until the betrayal. That was when everything became muddled and dark. Over the course of this story, we learn all about that beginning in the meadow and how their feelings later became wrapped up in animosity. But as adults, they had an undeniable chemistry that kept forcing them towards each other. The situations they find themselves in and the issues they had to get past were the stuff of nightmares. Quite literally. But the romantic in me never gave up hoping they would find their HEA. Okay, so maybe a few times things looked pretty bleak. But, come on. It's Kresley Cole. She'd never do that to us readers…
Whether or not you're familiar with Immortals After Dark, I think all of you paranormal fans out there will love Dark Skye. It's sexy, funny, twisted, and all of the wonderful things that make this series a favorite amongst readers.
Book Info:

Publication: August 5th 2014 by Gallery Books | (Immortals After Dark #14)
In this highly anticipated novel in the Immortals After Dark series, #1 New York Times bestselling author Kresley Cole spins a sultry tale of a mighty warrior scarred inside and out and the beguiling sorceress with the power to heal him – or vanquish him forever.
Eternal Obsession
As a boy, Thronos, Lord of Skye Hall, loved Lanthe, a mischievous Sorceri girl who made him question everything about his Vrekener clan. But when the two got caught in the middle of their families' war, tragedy struck, leaving Thronos and Lanthe bitter enemies. Though centuries have passed, nothing can cool his seething need for the beautiful enchantress who scarred his body – and left an even deeper impression on his soul.
Endless Yearning
Lanthe, a once-formidable sorceress struggling to reclaim her gifts, searches for love and acceptance with all the wrong immortal suitors. But she's never forgotten Thronos, the magnificent silver-eyed boy who protected her until she was ripped from the shelter of his arms. One harrowing night changed everything between them. Now he's a notorious warlord with a blood vendetta against Lanthe, hunting her relentlessly.
Can the heat of desire burn brighter than vengeance?
With their families locked in conflict and battles raging all around them, will Thronos and Lanthe succumb to the brutal chaos that threatens everything they cherish? Or will the fragile bond they formed so long ago spark a passion strong enough to withstand even the darkest doubts?