Dark Wolf by Kate Douglas: I don't know exactly what to say about this book. I loved it. I hated it. It was hot. It left me cold. I was all over the place with this one. And I think I have to say that I kinda liked it!
This book was such a departure for me and it felt so different than anything else I've read that I want to do this review a little differently. I want to do this chronologically so that I can get my thoughts organized and properly cataloged!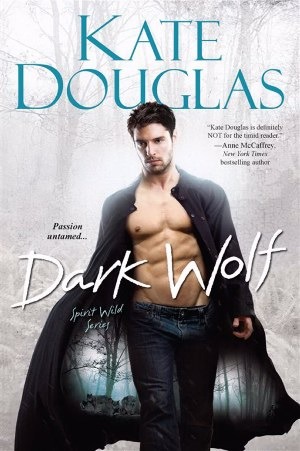 So at the beginning of the book, I was really confused. The main character, Lilly, was talking about how the Chanku (shapeshifters) had been out in the open, with the general population being aware of them for a while now. And it seemed like it was reality, like our own dimension, because characters were talking about California and Montana. So I wasn't really sure when or where I was. It seemed like I would have to plod along, not having any idea but eventually, the author clues you in to what's what. You just can't be impatient like I was!
Once you get that all cleared up, you can relax and get to know Lilly, the heroine of the book. Lilly is a little bit like royalty. Her father is the super alpha male over all of the Chanku and he's very respected and very beloved. Lilly is next in line but she's special in many other ways. I think the author didn't even get really that far into all of Lilly's gifts. But maybe you'll get more of that in future books in this series. Anyway, Lilly is the perfect heroine! She's tough-as-nails and totally badass. But she's also longing for more. And I don't mean sex. She's looking for the whole package. Not just the man, but the man and the closeness and the kids and the family but it all starts with the man and there's just no one on her radar. Until now…but first, she'll have to solve the mystery of who is raping and killing women in the Bay area and Montana, near her family property.
Hoping to keep public favor on her side, Lilly goes to a benefit honoring her father and there she meets the son of her father's enemy. The son's name is Sebastian and he is also something of a mystery. His father certainly seems evil so is Sebastian truly his father's son? That's something I really loved about Sebastian and how the author made me feel about him. You don't know if he's bad or not. You really hope he isn't but you just don't know! And then, we find out that he's not able to remember where he was or what he was doing during the murders so it looks really bad for him. But you already like him so much and he just seems like he couldn't possibly be the killer! And he has such respect for Lilly and he aches to have a loving family like she does. But you just don't know and it delicious!
Another thing I wanted to mention is the Sexy Time. Whoa whoa whoa. This was seriously hot. There was TONS of sex! But you're going to need to have a VERY open mind. I won't give too much away but let me tell you what kinds of Sexy Time to expect: male on female (of course), female on female, male on male, a threesome with two females and a male and I think even a 4 foursome. And maybe even a teensy bit of animal sex. It really shocked me because I wasn't expecting anything like this! Usually, shapeshifter books have their characters in a strictly monogamous relationships. The same sex sex scenes didn't do too much for me but since I've never really read many before, it didn't bother me. I don't know that I'd go out in search of same sex romance novels but if one had it, I would still read it. As long as it had my kind of Sexy Time in there too! LOL!
Overall, I enjoyed this book. There were definitely some flaws in there but nothing that ruined my day. And maybe they weren't even flaws; they were just parts I didn't like. But there was plenty to like. All of that sex – unusual and usual – was all wrapped up in love. Sebastian and Lilly love each other. Alex and Annie love each other. Everyone in the pack loves each other. And it's not a dirty, filthy, "Oh yeah baby" kind of love. It's a true, honest, real, pure love and even if the different type of sex turn you off, that kind of love probably won't.
Even with all the freaky deeky, I'd still recommend this book. But I'd only recommend it to someone who has already read this type of book or to someone who has a very open mind. If you DO like this kind of book, I think there will be more in the series to come, so you should keep your eyes open for them! Enjoy!
Book Info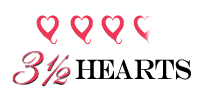 Publisher: Aphrodisia (April 30, 2013)
Sebastian Xenakis is still coming into his power as a wizard. He can shapeshift by magical means and runs as a wolf using the power he draws from the elements. But young women are dying—raped by a human and then slaughtered by a wolf. Suspicion falls on the shapeshifting Chanku, but Sebastian wonders if he might somehow be guilty of the crimes.
Then he meets Lily Cheval, the uncrowned princess of the powerful Chanku, and realizes he will do whatever it takes to clear his name and win her love. But evil walks where Sebastian goes, and there are mysteries neither Lily nor her father, the powerful wizard, Anton Cheval, cannot unravel. Is Sebastian the perfect mate for Lily, or is he instead, one she should fear?