In Barefoot in the Rain by Roxanne St. Claire Jocelyn is a life coach in L.A. when she becomes involved in a highly publicized scandal. When she needs a place to hide out for a while, she heads home to Barefoot Bay, even though that is the last place she really wants to be. Barefoot Bay holds too many painful memories and tightly held secrets, and Jocelyn no longer feels at home there. 3 of Jocelyn's closest friends are in Barefoot Bay to help her heal, one of whom owns a resort in the making where Jocelyn can hide out. Also in Barefoot Bay is Will…her closest childhood friend, keeper of many of her secrets and the boy who has always held her heart.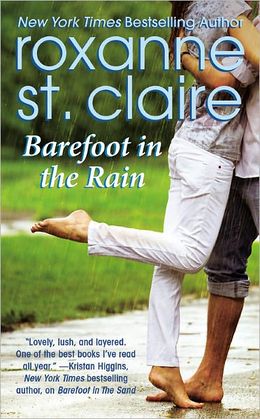 Will is doing carpenter work at the resort, once again living in his childhood home next to the house where Jocelyn grew up. Ironically, he is the one now caring for Jocelyn's mentally declining father. A father she wants nothing to do with, who brings too many dark memories of her childhood rushing to the surface, even if her father can't remember them. Will is hoping that Jocelyn can forgive her father…and maybe forgive him for his perceived wrongs and give Will another chance.
Jocelyn has been very rigid and controlled for years. For her it is a protective mechanism. She admits that there is a hard shell around her heart and she is afraid if it cracks open she will break. She fled without a backward glance years ago for her safety and Will's. She is not sure she can trust her feelings or Will's at this point in her life, and with all the chaos surrounding her she's not sure she wants to deal with a relationship with Will and all the feelings it brings. Jocelyn is also terrified that when Will finds out her other secrets he will reject her.
Is there a future for Will and Jocelyn? Will wants nothing more to be given the chance to love Jocelyn, he is not willing to let her go again. Can Jocelyn take a page from her own life coaching book and focus on the one thing she can't live without? Trying to forgive Jocelyn's father is a big step that Will and Jocelyn must try to do to bring some closure and be able to move on. It is even harder when more wrongs are suddenly in the open. Can Jocelyn forgive her Dad for her years of suffering and instead see the man he is now?
Barefoot in the Rain was a fantastic read! It had a much more serious tone to it than some other romances I've read, but it all fit together and flowed perfectly. Roxanne gives us a good mix of humor, laughter, sadness, seriousness, friendship and love that brings Barefoot in the Rain to life. There are many secondary characters in this book, and it was fun to have peaks into their lives too. They enhanced the story line, and I look forward to following up with these people in the future!
Barefoot in the Rain is the second of the Barefoot Bay stories, but it can definitely be read as a stand alone.
Book Info

Publisher: Forever (October 30, 2012)
They say you can never go home again . . .
When "Life Coach to the Stars" Jocelyn Bloom is embroiled in scandal, the only place she can hide is the one place she wishes she could forget. She left Barefoot Bay-and the boy next door who knew all her secrets-years ago. Now nothing about the tiny island off the coast of Florida is quite how she remembers it, especially Will Palmer. He's even more gorgeous and tempting . . . and still capable of turning her world inside out.
But what if someone is waiting for you?
To Will Palmer, Guy Bloom is more than the elderly, senile neighbor he looks after-he's the last connection to Jocelyn, the woman Will loved and lost. But the reunion with Jocelyn doesn't go smoothly. Shocked by the change in her father's personality, Jocelyn struggles to reconcile her dark childhood with the sweet, confused man who has grown close to Will. Jocelyn has guided countless clients to happiness-but can she escape the rainy days of her past for a new sunny future with Will?