Dating the Duke by Emma Hart: Adelaide might not consider herself royalty but this teacher turned aspiring author is no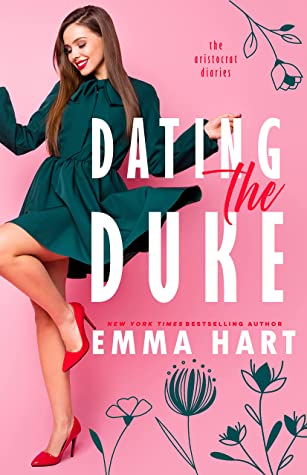 stranger to life on the royal side of things which is exactly how she managed to land herself in a fake relationship of sorts with the Duke of Worcester.
What started out as Addy spending the summer tutoring Alexander's daughter Olympia to improve her reading and writing skills soon turns into Addy fitting into the family seamlessly, so much so the tabloids assume that she and Alexander are a newly formed item! This could the perfect arrangement for both Addy and Alex after all they do enjoy spending their down time together but what happens when the summer comes to an end and Addy begins to realise that Olympia isn't the only one that has managed to capture her heart?
Emma Hart will always be a go to author for me and this is simply because this lady never fails to leave you grinning from ear to ear after reading one of her books. After reading Lady Love I was eager to get my hands on Addy and Alex's story and let me just say The Aristocrat Diaries is easily my new favourite series by Hart. True to her usual style this book is packed with loads of sass, laugh out load moments and now a royally cute romance.
Addy and Alex are easily my new favourite couple, these two just fit together perfectly, I loved their easy friendship which clearly had some delicious chemistry brewing. Addy was such a sweetheart, I loved her cool playful exterior and that she put so much effort into helping Oly with her dyslexia. As for our dashing Duke, Alex initially came across a stiff suit but that could not be further from the truth. I loved that he was such a fun and chilled out guy, he never let his title get to his head or act differently. More than anything I loved getting to see him interact with Olympia, this daddy daughter relationship was just the cutest.
As much as this was a single dad romcom, I found that it leaned into the friends to lovers trope a tiny bit and I loved it. I really enjoyed getting to see Addy and Alex together and the easy chemistry that they shared, and gosh their back and forth about the Lancaster's and York's was just priceless. I really liked that Olympia played her own role in the entire story and that she wasn't just sidelined. I absolutely loved the side characters in this book, especially Boris and the wacky cross stitch ladies. One of my favourite things about Hart's books is that she ways has such cute furry characters and Dating The Duke was no different, I loved all the little bunnies and Treacle the guinea pig. Also you are really going to find yourself getting invested in the great magpie wars, I warn you now!
Dating The Duke is definitely a book to check out, this laugh out single dad romcom was one I just couldn't put down! I can not wait to see what Hart has planned for Addy's twin sister Eva in the next book in The Aristocrat Diaries.
Book Info:

Publication: January 18, 2022 | Pub: Emma Hart | The Aristocrat Diaries #2
A duke and a writer walk into a bar, and the barman says—never mind. They're in the library, and they're not wearing any clothes. Oops.
My name is Adelaide Astley, and if there was anything remotely exciting about me to tell you, I would.
Sure, my uncle is the Duke of Leicester, and my mother bucked family tradition to marry "below" her and open a hotel, but I'm nothing but an aspiring author with a Tudor era obsession.
Oh, and I'm spending the summer tutoring the daughter of the current Duke of Worcester—who happens to be a regular in my highly inappropriate midnight dreams.
Thirty-year-old Alexander Winthrop-Bentley is so not my type, but hours of chess games and arguments over Tudor dynasties mean we're thrown together more often than we should be. And when he shares with me that he needs a date for a charitable event, my mouth betrays me by offering myself up for the evening.
How I find myself naked in the library is another matter entirely. Ahem.
When the society papers declare us an item, neither of us have the heart to tell our families the truth. Only my twin sister and best friend know the truth, but they both agree we need to keep up the charade, even if only for the summer.
But when the end of August comes and my return home beckons, I have to ask myself a question.
Is it only his daughter who's stolen my heart, or has Alexander done the very same thing?