Dealing Her Final Card by Jennie Lucas has everything that a Harlequin Presents reader wants: an alpha male, a heroine capable of standing up to him, exotic locales and, of course, plenty of heat! If you enjoy those element, you'll like this tale.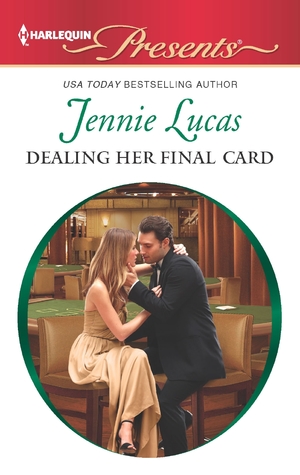 In Jennie Lucas' Dealing Her Final Card, a desperate Bree Daulton seeks to make good on her younger sister Josie's gambling debt. Haunted by their father's con-man past, a string of debts, and threats from years ago, Bree reencounters the savagely handsome Prince Vladimir Xendzov unexpectedly in a Honolulu card club. He'd stolen her heart when she was 18, then left her, and now they play for high stakes indeed:
"For the rest of your life, you will work for me, Bree. For free. You will never be paid, or allowed to leave. Your only goal, until you die, is to serve me and give me pleasure."
Rashly Bree agrees to the wager, finds herself bested (for the present), and thus begins this sexy, tension-filled tale that follows Bree and Vladimir from Hawaii to St. Petersburg. From a life of poverty to fabulous wealth, Bree is at Vladimir's beck and call, the sexual and emotional tension between them growing ever greater.
To be honest, I initially thought that Lucas might have taken the whole alpha male thing a bit too far, for Vladimir is not joking when he strikes his bargain with Bree, and he initially treats her like a slave (or a serf, as he corrects her). But in the manner of the best of the Harlequin Presents line, Vladimir comes to question his assumptions about Bree and rediscovers a hotter fire between them than the burning quest for revenge. How these two work through their mutual scars from the past and their misunderstandings kept me turning the pages, and I devoured the book in one sitting!
Rating:
Book Info: Publisher: Harlequin Presents (February 1, 2013)
"If my card is higher, you'll belong to me, obeying my every whim, for as long as I desire."
As Bree Dalton hears the icy words of Russian Prince Vladimir Xendzov, the man whose ring she once wore and life she once ruined, she nervously accepts the biggest wager of her life. Her body for a million dollars.
Bree knows better than to doubt the steely ruthlessness of this man. With everything to lose and the weight of Vladimir's gaze upon her, she will have to play the best she's ever played—or run the risk of losing herself completely….