A Soldier's Sweetheart by Soraya Lane is a sweet and emotional read about second chances.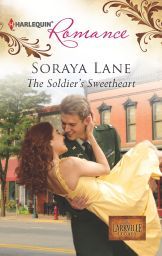 Nate Calhoun has not been the same since his return to small-time life after what he went through in Special Forces. He will not talk to anyone and won't interact with his family, whom he was very close to. But the demons that follow him are too much and he can't tell anyone what happened to him. And he doesn't want to let Sarah near him after she betrayed him and married his friend short after he broke up with her.
Sarah Anderson knows that Nate needs someone to talk to, someone who will keep his secrets, but she doesn't want to be that person. She has already loved him once and he left her and broke the promise to return to her, she can't face loving him again, the pain of loosing him might destroy her.
But the need to help her childhood sweetheart is more than her need to protect herself. With a little love and patience she will help the man she has always loved in her heart and just maybe be able to find something that will last.  But first she will need to help him see her perspective about what really happened and tell him her secret she has kept from everyone before making a lifetime decision.
If you want to read about sweet romance that endures separation and pain but where true love wins it all, then this story is for you.
Rating:
Book Info: Publisher: Harlequin Romance (January 1, 2013)
Larkville hero comes home!
Returning Special Forces soldier Nate Calhoun is struggling to adjust to small-town life. It's a relief to get back to the bunkhouse with only his memories and a bottle of bourbon for company.
Only Sarah Anderson can see straight through Nate's surly exterior to his pain. As childhood sweethearts they were inseparable—until he left, shattering her heart.
But hanging out like they used to—racing horses and shooting the breeze on the ranch—they begin to see that there really might be that spark still between them….