Dearest Rogue by Elizabeth Hoyt: Elizabeth Hoyt is one of my favorite historical romance authors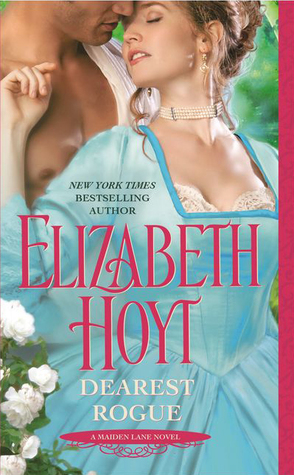 and I've thoroughly enjoyed the Maiden Lane series with its colorful cast of characters and intriguing story lines . This latest entry in the series is the tale of two people who have been previously introduced in earlier books, though it's not necessary to have read them in order to pick this one up as each can be read as a standalone (however I would highly recommend them!)
Lady Phoebe Batten is the younger sister of the Duke of Wakefield – and a genetic condition has left her blind at the age of 21. James Trevillion who previously was a soldier but was injured in the line of duty has been hired by the Duke to be Phoebe's protector and guide. While Phoebe laments her lack of freedom, it becomes clear that there are those who wish to get at her rich and influential brother by kidnapping her. Even with James by her side, Phoebe is not entirely safe and James has his hands full. But the more time they spend together, the more Phoebe realizes that she is starting to see James as more than just her stoic and unflappable guard. With danger on all sides, will James be able to keep her safe, and more importantly, will he be able to keep the walls up around his heart?
Phoebe is such an intriguing and unique character. Her blindness has been slowly increasing such that though she can't see anything now, she still has the memories of what things looked like when she was younger. Her attitude towards her blindness is admirable – there is no point in crying about it, she has accepted that there is no cure and she is determined that it will not stop her from living her life. She is brave, sometimes foolish, sweet and lovely and with a sense of humor that is undimmed by her disease. I love how she goads James into discussions and arguments and always keeps him on his toes. James is wonderful as a strong, courageous, loyal and protective man. He cares more for Phoebe than he's willing to admit (at least at first) and his number one duty is to keep her safe from harm. But when it comes to matters of the heart, he doesn't feel that he is good enough for her. He is older (33), wiser, and jaded. He knows that a marriage between a common ex-soldier and a society lady isn't in the cards for him, no matter how much he might wish it weren't true. But Phoebe is unconventional. She already is seen differently by society due to her blindness. She cares not a whit for what they think and desires only to have a man want her for herself and not her money. As she and James spend more time together, her feelings for him change, and she senses that things are not so cut and dried for him either.
'He reached for one foot again, dainty and small and set it on his knee. He trailed his hands up her calf, hidden by her skirts, feeling the slide of the silk, the warm skin beneath, up over her knee to the ribbon tied around her thigh. He could feel the bare skin above it, soft, inviting.

Warm.

He glanced up just as he pulled the ribbon free.

Phoebe had her head tipped back, a smile flirting with her lips, her cheeks a sweet pink, and Trevillion caught his breath.

What was he doing? This was madness. He ought to take his hands out from under her skirts. Ought to leave her to take off her own stockings.

Instead he felt his hands shake as he began unrolling the stocking over knee and calf and slim ankle. He set it on the chair by her hip.

He inhaled and reached up for the second stocking, aware suddenly what lay just above that ribbon, hidden in the recess between her thighs.

Sweat broke out on his back.

Slick silk, warm flesh. He found the ribbon, the flimsy little thing caught in his large, rough hand.

Phoebe inhaled as he watched her, her tongue peeping out to lick her lips.

He swallowed and pulled the ribbon, letting it fall as he took the stocking's edge between his fingers and slowly rolled it down her leg.'
The chemistry between them leads to some sweet, steamy and delightful love scenes as James loses his heart to Phoebe once and for all. He tries hard to balance giving her the freedom she needs while still being at her side. I really loved the two of them together. There is a bit of action and intrigue throughout the story as the mystery of who is trying to kidnap Phoebe becomes more complex and I enjoyed this aspect of the plot as well. I was delighted to see Phoebe get her romantic happy ending at last with a wonderful man like James and enjoyed the brief glimpses of characters we have seen in previous Maiden Lane stories. It was thoroughly charming.
Book Info:

Published: May 26th 2015 | Grand Central Publishing | Maiden Lane #8
HE CAN GUARD HER
Lady Phoebe Batten is pretty, vivacious, and yearning for a social life befitting the sister of a powerful duke. But because she is almost completely blind, her overprotective brother insists that she have an armed bodyguard by her side at all times-the very irritating Captain Trevillion.
FROM EVERY DANGER
Captain James Trevillion is proud, brooding, and cursed with a leg injury from his service in the King's dragoons. Yet he can still shoot and ride like the devil, so watching over the distracting Lady Phoebe should be no problem at all-until she's targeted by kidnappers.
BUT PASSION ITSELF
Caught in a deadly web of deceit, James must risk life and limb to save his charge from the lowest of cads-one who would force Lady Phoebe into a loveless marriage. But while they're confined to close quarters for her safekeeping, Phoebe begins to see the tender man beneath the soldier's hard exterior . . . and the possibility of a life-and love-she never imagined possible.