Welcome to Harlequin Junkie's
4th
Annual

Reader Appreciation
#BOOKMAS
EXTRAVAGANZA!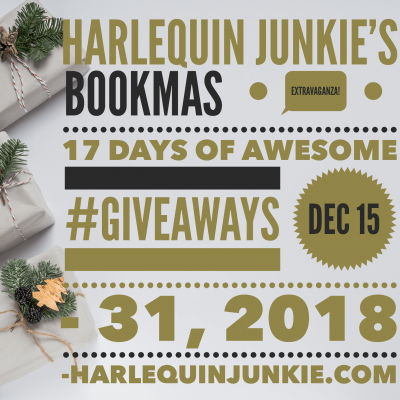 HJ's Bookmas Extravaganza is our annual celebration of

YOU, our loyal and engaged readers of Harlequin Junkie blog and the romance community.

We would like to say Thank You for all you do; for all the tweets, shares, comments and for the fabulous job you do of spreading the word on all things bookish!! We <3 You!
On the 10th Day of #Bookmas…
Tule Publishing gave to me:

 A Tule Publishing tote, with books and swag.
A spotlight on a 2 Tule Publishing series: 

Last Stand, Texas
Last Stand is a small Texas town with deep roots. Founded before Texas became a state, Last Stand earned its name when early settlers holed up in the salon and held off a splinter group of the Mexican army during the Texas Revolution.
Today the saloon still stands, scarred with bullet holes, and the community thrives, rich with ranchers, cowboys, vineyards, orchards and local businesses. Last Standers are proud of their community and history.
The first Last Stand books will be published starting in April and include both sweet stories and hot sagas.
Early authors include Eve Daddy, Katherine Garbera, Justin Davis and Joanne Rock.

Outback Brides 2
A follow-up to the first successful installment, the second series brings stories from Fiona McArthur, Victoria Purman, Barbara Hannay and Kelly Hunter.
While the Australian landscape, rural lifestyle and charming small town and tight community serves as almost a secondary character, readers will receive new developments on the first books' heroines and introduced to more marital drama and excitement.
The first book of this series will be released in March.


Tule Publishing brings you the best in commercial fiction, from romance to chick-lit to compelling women's fiction. Whether you're in the mood for sexy or sweet, Tule brings you fresh, modern, and exciting plots and beloved classic romance. Each of our imprints brings you something different, and there's something for everyone! Website | Twitter | Facebook

GIVEAWAY:

1 Tule Publishing tote, two Tule Texas-themed print novels and Tule swag.
To enter Giveaway: Please complete the Rafflecopter form and

Leave a comment with your thoughts on the Series spotlighted here, tell us which one(s) grabbed your attention & why?
From Naughty to Nice and Everything in between….
Be sure to stop by everyday from Dec 15 to Dec 31 2018 for a chance to win: Box-O-books, Gift Cards, Kindle, Audio books, Signed book bundles, Author Swag & more!