Rocked by Taryn Elliott & Cari Quinn: After all the shit they'd been through, Deacon almost couldn't believe Oblivion was on tour – and opening for Rebel Rage. Things weren't perfect though, they were still worried about whether they'd get a record deal at the end of the tour, and if they'd live up to the fans' expectations. Turns out when they started to rival Rebel Rage in popularity, their once-idols didn't appreciate it. Yup – not perfect at all, and that made Deacon, the peacemaker in Oblivion – mighty nervous.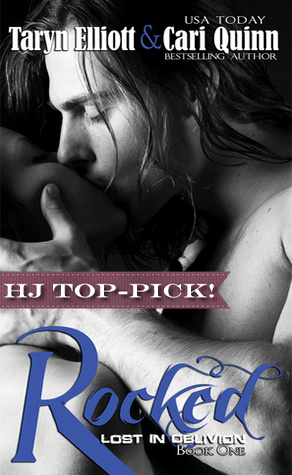 Harper Lee was hoping to impress the people at Food Riot enough so they'd keep her on for another tour. Feeding Rebel Rage and Oblivion was her first, and she was literally trying out for a full-time gig with the company. Her parents – and now her brother – had been roadies, so she knew touring like the back of her hand. And she was an amazing Chef, so she had nothing to worry about. Except for Deacon McCoy. He could definitely get in the way, and she might just let him.
"If you deny something is happening between us, I'm going to kiss you stupid again, Harper Pruitt."
How on earth could she deny it? If nothing else, she was a realist. And walking away from Deacon right now wasn't an option.
Deacon and Harper settle into a relationship, mostly because they just can't deny themselves the amazing chemistry while they're together. But while they get closer, Oblivion seems to be deteriorating bit by bit. It's like Deacon watches it like sand through his fingers until one day it just implodes. He needs to keep both his band and his relationship with Harper together, he's just not sure he can do both.
Ever since I read "Seduced", the prequel to the Lost in Oblivion series, I've been *dying* to read "Rocked". I wasn't disappointed in the least. Even though I was anxious to hear Gray's story, Deacon was just as tantalizing, and DUDE – he was Hot with a capital H. He just about sizzled off the page, and the sex scenes in the book were amazing. Not for the faint of heart – so if you prefer your books chaste, this isn't for you.
Harper smiled back at him before opening those summer sky blue eyes. "I love you, big guy."
"Get moving." Simon shoved him onto the stage.
"Wait, what?" Deacon's breath stalled in his chest. "What did you say?"
Harper stood on the sidelines grinning like an idiot.
I loved Harper as well. She was more than a match for Deacon – snappy, smart, talented… and she totally wanted nothing to do with him. It took a super concerted effort on Deacon's part to win her over, and while that's not a new trope, I love how it was handled in this case. Handcuffs were involved, and perhaps not in a good way.
Cari Quinn and Taryn Elliott are so good together it's scary. I cannot wait for the other books in this series.
HIGHLY recommended if you like your stories hot, and your men strong but peacemaker-y. If you dig sassy & strong ladies, that's a plus.
Book Info:

Published April 9th 2014 by Rainbow Rage Publishing
Love definitely wasn't on the setlist.
Opening for their idols on their first tour, Oblivion is living the dream. Mostly. Frustrated at being shoved out of his mediator role by their new manager, Deacon McCoy loses himself in brutal workouts. He only comes up for air long enough to refuel—and to tease the deliciously cute chef who makes him crave a lot more than what she's offering on her serving plate.
As the child of roadie parents, Harper Pruitt has heard every pickup line twice. To her, musicians are one step above the scraps on her cutting board. All she wants is to get enough experience to run her own catering company, but Deacon and his bottomless stomach are too tempting to resist. He's far from the typical rock star and before long, she finds herself experimenting with him, inside and out of the kitchen.
Apron – and panties – optional.
When Harper sees that Deacon's dream band with his best friends may be turning into a nightmare, she can't walk away. Deacon's so much more than just a peacemaker and the man behind the bass. But she has her own dreams to chase…even if she's starting to think what she's building with him might be the biggest one of all.