In Decidedly By Chance by Stina Lindenblatt, Hannah Morrell learned during her childhood that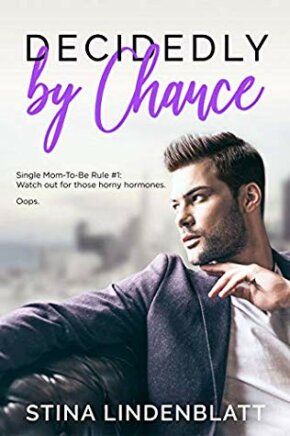 people don't stick around, so she's not holding out hope on finding love. She does, however, want a child and uses an anonymous sperm donor to accomplish the tasks.
Wes Chiasson has found himself the guardian of his young niece after the death of his brother and sister-in-law. He feels a little lost, so when his friend Hannah finds herself in need of a place to stay, he offers her up a room at his place. Wes has always had feelings for Hannah, but can he convince her he's going to stick around for both her and her baby?
At first I found it hard to get into the story. It seemed to be all about Hannah complaining about how horny her pregnancy has made her and how she wants to find relief. Once it eventually moves past that though, it was a good story.
Wes is really great with his niece, Everly. He's doing his best to help her move on with her life without her parents. He has some guilt over what happened the last year of his brother's life, but he never seems to really deal with it. Even Hannah suggested he see someone about it, but then it's dropped and not brought up again.
Hannah had a rough childhood. I understood her hesitation about being in a relationship, however, she watched her best friend from foster care, Emma, fall in love, get married, and start her own family. After seeing her find happiness, I wasn't sure why Hannah couldn't believe she could have the same thing. I did like how great she was with Everly from the get-go, even if she only wanted a friends-with-benefits arrangement with Wes.
Everyone was rooting for Hannah and Wes. Even the board of the complex Wes lived tried to play matchmaker, which was funny to watch.
This is the fifth book in the series, and I haven't read any of the previous stories. There were some references to Hannah and Emma and Emma's time in foster care, which did make me feel like I was missing some of the background story there. Despite that, it works as a standalone.
Fans of the friends to lovers trope will enjoy Decidedly By Chance.
Book Info: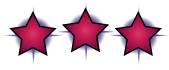 Publication: September 19, 2019 | Amazon Digital Services | By The Bay #5
After a childhood of bouncing from one foster home to another and a series of failed relationships, I've taken matters into my own hands when it comes to starting a family.
Or rather, someone else's hand. And a plastic cup.
I'd rather be a single mom than be let down again, and I'm definitely not looking for a baby daddy. That includes sexy workaholic game designer Wes Chiasson, thank you very much.
***
My software company has been my number one, two, and three priorities. But that all changes when I suddenly become the guardian of my three-year-old niece. Now my world has turned topsy-turvy with princesses and little-girl tea parties.
When Hannah Morrell needs a place to stay after the pipes in her apartment burst, I invite her to move in with my niece and me. Hannah is a pediatric nurse, and given my situation, who could ask for a better roommate?
Sounds easy. Right?
It is—until emotions get tossed into the mix. Because if there's one thing history has taught Hannah, it's that the people who've gained her love can't be trusted.
And now I have to put my heart on the line to prove otherwise.