In Wrong Bed, Right Girl (Accidental Love #2) by Rebecca Brooks, all DEA agent Reed Bishop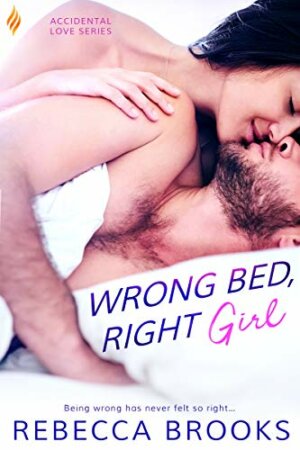 wanted is to check in with his lead informant. Instead, he finds himself face-to-face with Talia Lassiter; a woman ready to fight for her freedom. She's also not his informant but somehow staying at his informant's apartment. Knowing Talia is in danger, he offers a solution. However, having her stay with him isn't easy, especially when he knows he should keep his hands off her. Will Reed be able to keep Talia safe and solve his case?
"You're not Stacey," he finally said.
"I can see why they made you a special agent." Her lips pushed up, somewhere between a smile and baring her teeth.
"What are you doing here?" he asked, ignoring the jab.
A beat, and then she said, "I live here."
He almost choked on his own spit. He'd expected her to say she was a friend, a cousin, someone crashing for the night.
What a hot and entertaining opposites attract trope encompassing story where being in the wrong place couldn't be more right, especially when it leads to one finding their happy ever after. And the way this story started had me liking the heroine immediately, as she's a hard-worker and a good friend and will do anything for those she cares for like her best friend and the woman whose dance position she's taking over. Will she be able to handle the pressure of being a principal? Will she be able to handle moving in with the hero?
As for the dialogue, it was fun because of the way these two meet and how the heroine pushes the hero's buttons and is determined to get under the hero's skin. Will her tactics work? Will Talia be able to get the hero to lighten up and have some fun instead of being so uptight and serious all the time? Furthermore, I enjoyed the main characters back stories and the challenges they face to be together, as the hero doesn't trust easily but somehow the heroine manages to win him over with her bold and independent nature. Then again, how could Reece possibly ignore the heroine when they're living together?
"I kept trying to come up with what to say, you know? How to make it right. And then I realized that if I kept planning, if I kept trying to make it perfect, I'd never make it over here. I'd never even give myself the chance."
"Then make it imperfect," she said. "Make it messy." She paused, then went ahead and asked for the only thing she'd ever wanted, all this time. "Make it real."
Overall, Ms. Brooks has delivered a wonderful second book for her Accidental Love series where the chemistry between this couple was off-the-charts; the romance was fan-your-face hot; and the ending had me so happy that these two achieved their happy ever after by working through the issues that were keeping them apart. However, it was the epilogue that wrapped this story up nicely, as these two are meant to be together. I would recommend Wrong Bed, Right Girl by Rebecca Brooks, if you enjoy the opposites attract trope or books by authors Cathyrn Fox, Avery Flynn, Naima Simone and Stefanie London.
Book Info:

Publication: May 13th, 2019 | Entangled Brazen | Accidental Love #2
Falling head-first into the wrong woman's bed was not how Reed Bishop's night was supposed to go. Now a gorgeous, half-naked ballet dancer was threatening his manhood…with a book. He can't blame her.
It wasn't how it seemed—he was just doing his job, tracking down his lead informant, who, unfortunately, took off, leaving him to figure out what to do with her friend. Staying in her apartment was no longer safe.
And that's how he got himself into this mess.
Now she's sleeping in his bed while he tosses and turns on the couch.
There are pink tights in his bathroom.
Pointe shoes next to his boots.
He swears he won't touch her like that…but he can't ignore his fantasies.
As a tattooed, muscled DEA Agent, Reed's seen some things. Drug dealers, murderers…He can't let Talia get close. Even though she's made it clear they're both fighting the same hunger. And he definitely can't use his handcuffs on her…no matter how much she begs.