Deep in a Texan's Heart by by Sara Orwig is the latest installment in The Texas Cattleman's Club series. Sara Orwig has penned a satisfying and tender romance. Fans of this series will want to add this one to their collection.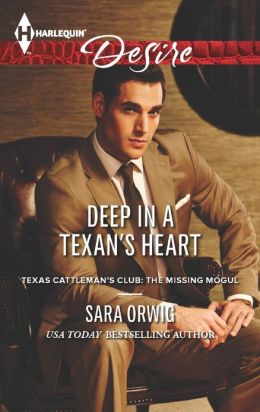 Lila Hacket has come home to Royal, Texas for a visit with her family. The person that she least wants to run into is Sam Gordon. The last time that she saw Sam, they had a one-night-stand that resulted in Lila becoming pregnant. She intends to tell Sam about the pregnancy, but she knows that he will insist on marrying her and marriage is the last thing that Lila wants.
Sam senses that Lila is hiding something from him. He doesn't know what it is, but when all the signs point to pregnancy, Sam figures it out and confronts Lila with his suspicions. Lila was correct when she assumed that Sam would propose marriage. She wants the best for her unborn child and is willing to share custody with Sam, but she is afraid of losing her independence and becoming like her mother who is a housewife. Will Sam be able to convince Lila that he is the one for her?
Lila is a very independent character who is afraid of losing herself in a relationship. Sam affects her like no on else has ever done. The air sparkles and crackles when ever the two come into contact with one another. Lila is a tough cookie to break and Sam has his work cut out for him while trying to prove his love and devotion to her.
Sam is an old fashioned, take charge kind of guy. He is very determined to make Lila his wife. It is his view that women should stay at home and raise their children rather than work outside the home. But Lila loves her work and she doesn't want to give it up. She wants the best of both worlds. Sam and Lila must come to a mutual agreement about her job before a relationship can work between them.
I enjoyed the characters and the storyline of Deep in a Texan's Heart, but at times I felt like it was repetitious and forced. The writing fell flat in places and it failed to keep my attention. In the end I was happy to see Lila and Sam get their happily-ever-after, I just wish that they would have had an easier time of getting there.
Book Info

Publication date: 8/6/2013 Harlequin Desire Series #2246
USA TODAY bestselling author Sara Orwig returns to the Texas Cattleman's Club, where cowboys know best…
As a card-carrying member of the Texas Cattleman's Club, Sam Gordon is conservative to the core. Discovering Lila Hacket—the woman he'd shared a passionate night with—is carrying his baby? Heck yeah, he means to marry her! Never mind that marriage is not what she wants.
With a budding career, Lila has no intention of changing her life to become Sam's idea of the perfect wife. So if he wants their baby to wear the Gordon name, he needs to change his ideas about what he really needs from Lila…and just what he's willing to give her in return.