Until Fountain Bridge by Samantha Young  tells us about Ellie and Adam. Adam is Ellie's brother's best friend, and Ellie's been in love with him forever! Adam has been a bit of a player with the ladies though, never acknowledging he sees Ellis as more than his best friend's little sister, despite some of the mixed signals he gives her as she gets older. It took a brain tumor scare for Adam to finally give into the feelings he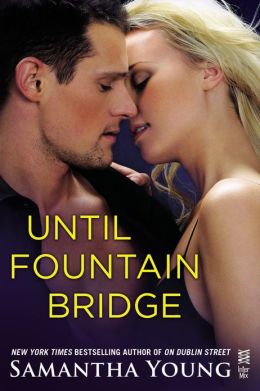 has for Ellie. Once that happened, things moved pretty quickly…but they've known each other forever! They are living together and Ellie decides to sort through some of her boxes not yet unpacked…particularly the ones with her journals in them.
In Until Fountain Bridge we see the evolution of Ellie and Adam's relationship. Samantha gives us a lot of insight into Ellie's thoughts and feelings through the diaries she's kept. She is sharing them with Adam, because she is a romantic at heart and they are the best real life love story! Until Fountain Bridge alternates between real time and the past via Ellie's diary. Samantha tells us Ellie and Adam's story very well. The use of Ellie's diaries was a great idea, we delve into the mind of a growing Ellie, seeing how some things change for her, some don't, and how she tries (unsuccessfully!) to move past her feelings for Adam. We feel her frustration with him as he threatens the boys then men she wants to date, and her confusion as she becomes aware that he has more than brotherly feelings for her but won't admit it.
I haven't read any of the other books in this series, but it was easy to follow along and Samantha gives just enough background information to satisfy you but make you want more! Ellie and Adam were both easy to relate to people, easy to like and understand where they were coming from. I'd love to know more about Joss now, so just might have to go and read On Dublin Street! Until Fountain Bridge was a quick romantic read with a unique perspective.
Book Info

Publisher: InterMix (June 18, 2013)
From the New York Times bestselling author of On Dublin Street and Down London Road comes a new novella about finding love in familiar places…
Ellie has been in love with Adam Sutherland for as long as she can remember. What started as a childhood crush on her older brother's best friend soon bloomed into full-blown infatuation. Unfortunately, it also meant full-blown heartache, as Adam refused to fall for Braden's little sister.
But it took a crisis to make Adam realize he's wasted too much time denying his feelings for her. Unwilling to waste a second more, he decided to make Ellie his, no matter the consequences. Now happily settled with the woman he's pined after for years, he's about to find out what their ten year courtship was like for her, through the journals she kept during their ups and many downs. And though Adam may have Ellie now, he has no idea how close he came to losing her…