In Defending Everly by Susan Stoker, SWAT officer Everly Adams's deaf younger sister has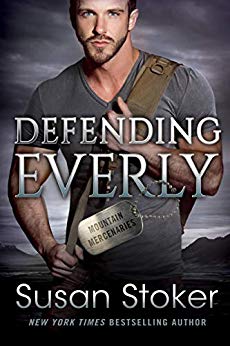 disappeared from their grandparents' house. Everly turns to the Mountain Mercenaries team to help find her before it's too late. She's paired up with former Coast Guard first responder Kannon "Ball" Black. The pair rub each other the wrong way, but with Elise's life on the line, they have to work together. Will they be able to get to the bottom of everything before it's too late?
Ball has reason to be distrustful of working with women, but his initial treatment of Everly has him coming across as a bit of a jerk. I loved how Everly is a strong heroine, not backing down and not letting Ball's attitude deter her from helping to find her sister. I also enjoyed how well the author gradually works on changing Ball's attitude, showing him that working with a woman won't always end in disaster. He displays a great deal of character growth throughout the book.
I absolutely loved Ball's interactions with Elise. It was adorable how he took it upon himself to try to learn sign language so he could communicate with her. They quickly develop a playful older brother/younger sister type relationship and it was great that they were able to connect right away.
There is plenty of action and suspense in the book as the Mountain Mercenaries attempt to discover who is behind Elise's kidnapping and the human trafficking ring. The book grabbed my attention from the beginning and held it until the very last page, where readers are teased with what's coming in the next book. I can't wait to see what's going to happen with Meat (a Mountain Mercenaries team member).
This is the fifth book in the series, but it can be read as a standalone. I have read some, but not all, of the books in the series, but I had no problem following along with the characters or happenings in this book.
With well-written characters, an intriguing storyline, and plenty of action, the author has crafted a story that fans of romantic suspense will love.
Book Info:

Publication: December 3, 2019 | Montlake Romance | Mountain Mercenaries #5
As tough as Everly Adams may be, the Colorado Springs SWAT officer is near a breaking point. Her fifteen-year-old half sister, Elise, has disappeared from Los Angeles without a trace, and the window to find her is closing fast. Committed to the search is Mountain Mercenary Kannon "Ball" Black. He and Everly already have a history—of rubbing each other the wrong way.
Still, Everly has to admit the man is heart-stopping. His brash alpha swagger takes her breath away. And most importantly, as a former Coast Guard first responder, Ball has what it takes to bring Elise home.
Nobody's buying the LAPD's "runaway" theory. And the fear that Elise is the victim of a human trafficking ring is a gut-punch that Everly and Ball can't ignore. If only the trail were that clear cut. Because the one they're following is more insidious and intimately dark than they could have imagined.
Now as the bond between Everly and Ball grows stronger, so does the heat. And as the stakes rise, so does the danger.