The Virtuoso is the third book in the Windham series by Grace Burrowes. It was originally released in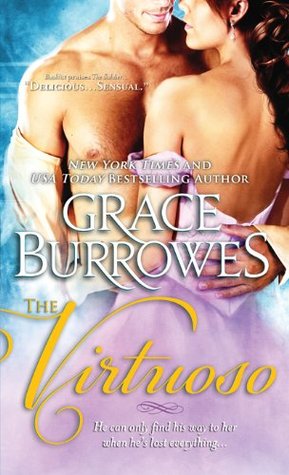 2011, but it is one of those series that can be read and enjoyed repeatedly (which I have done). The book can be read as a standalone, but they are so much better if read in order. The series is based on the Duke of Moreland and his children. The author also includes some characters from other series and provides wonderful family trees for her books on her webpage. The book was well written, perfectly paced and read smoothly. It is one of those books that once you start, you can't stop and when you are finished you are on pins and needles waiting for the next book.
Lord Valentine Windham, the youngest son of the Duke of Moreland, was a brilliant pianist. He has been informed he needs to give his injured hands a break from the piano or lose their functionality. He tried to find entertainment doing what other younger sons of nobility did, but it didn't ease his lose of playing. At a card game, he won an estate from Lord Roxbury.
Widowed Baroness Roxbury, Ellen Markham, has hidden away in her gardens for solitude at her cottage in Little Weldon. She sells the products she makes from her flowers and garden in the towns market. When Frederick, the new Roxbury heir, visits and informs her he is going to sell the Markham estate where she lives as a tenant, her peace is disrupted.
Ellen and Valentine had met a year prior and shared a stolen kiss when he had visited Little Weldon. Valentine's new estates were run down and needed major repairs, but he was determined to complete them while waiting for his hands to heal. Their shared kiss wasn't forgotten by either of them and their feelings continued to grow. Mysterious accidents start happening causing Valentine to wonder who is sabotaging his estates and why. Things are not as they appear, and pasts begin to be revealed. Can Valentine solve the mystery before someone is harmed?
This is a wonderful book and one that I have read several times and enjoyed. The author does a great job developing the characters and the plots. She grabs your attention in the beginning and keeps it until the last page. This is a series you don't want to miss reading!
Book Info:

Publication: November 26th 2019 | Sourcebooks Casablanca | The Windham series
Nothing can replace a terrible loss…
Gifted pianist Valentine Windham, youngest son of the Duke of Moreland, pours all his passion into his music. But when injury prevents him from playing the piano, he flees to the country, alone and tormented by what he has lost.
Except a new beginning…
Ellen Markham has hidden herself away, looking for safety in solitude. Her curious new neighbor offers a kindred lonely soul whose desperation is matched only by his desire, but Ellen's devastating secret could destroy them both.
Together they'll find there's no rescue from the past, but a new future may be worth the cost…