Defensive Heart by Dorothy F. Shaw is a good read which gives credence to the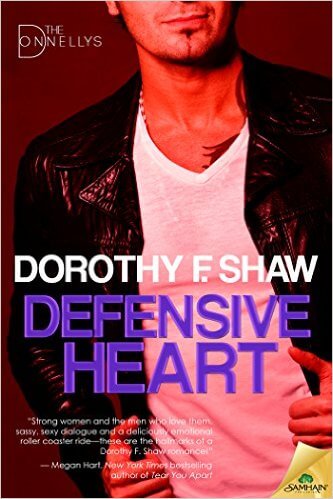 statement that opposites do attract.
Straight-laced attorney falls for a young and sexy, tattooed artist. Throw in a troubled daughter, an ex-husband who doesn't want to be an ex, and a hero who will rock your world. Sonja and Jimmy couldn't be more different, but looks can be deceiving. Jimmy is everything Sonja was taught to resist. He's a bad boy. She's the good girl. She's uptight while he's calm. But when they finally get their clothes off, those differences don't seem to matter…at least for a little while.
I really enjoyed Jimmy as a hero. He goes after what he wants and continued to impress me throughout the story. He was the best part of this book for me. Sonja, on the other hand, made me shake my head a few times. To me, Jimmy was too good for Sonja and would have been better off without her, but you love who you love, and it's clear that he loves Sonja. I felt his love for her, but I didn't feel the same feelings radiating off Sonja's character.
Overall this is a good read and if you love your heroines older than the hero, or if you enjoy your romance with hot sex scenes, this is a great book for you to try.
Book Info:

Publication: September 8th 2015 | Samhain | The Donnellys #2
Uptown girl, tattooed bad boy. Think you know which one is wild? You'd be wrong.
The Donnellys, Book 2
Greenwich Village is home to successful artist Jimmy Donnelly, and the world is his playground. A broken heart in college left him with zero interest in being tied down. But when he meets a sexy, quick-witted Manhattan attorney, he reconsiders his bad boy ways.
Sonja Martin's life is filled with work, an ex-husband who refuses to stay gone, and a teenage daughter who won't follow the rules. Jimmy, with his myriad of tattoos and piercings, looks more like one of her clients than a potential lover. But when every argument between them feels more like foreplay, she can't seem to stay out of his bed.
The heat burns through whatever defenses Sonja thought she had. And Jimmy finds his every fantasy fulfilled—and exceeded—by a woman whose fire burns as bright as her fiercely guarded vulnerability.
But his case for breaking her out of her self-imposed mold might just be dismissed. And he'll lose the best thing he's ever found.
Warning: This book might piss you off. But if I've done my job, while you're busy being pissed off, you'll also fall in love with the hero and the heroine. May contain: A pompous, misogynistic ex-husband. A rebellious teenager. A ton of sex. Adventurous sex. Make-up sex. Desperate-OMG-GET-YOUR-CLOTHES-OFF sex… Did I mention there's a lot of sex?