In A Kiss in Kite Harbor by Stephanie London, Shelby Jenkins finds it hard coming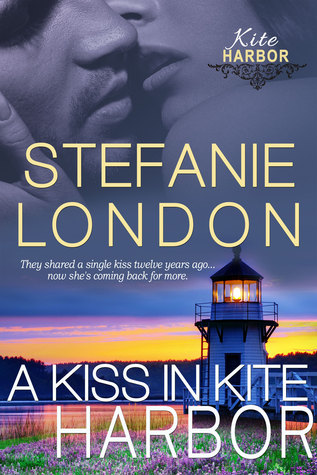 back to her hometown. But when an accident sidelines her dad, she returns to help him out. However, facing her past demons may be harder than she thought, and she might just have to accept help from the very person that once broke her heart, Nate Ritter.
What an absolutely delightful novella this was about a hero seeking redemption, a heroine facing her past demons, and second chances. The pages really flew by once I began reading. But more so once Nate and Shelby came face-to-face again, which could either be seen as an awkward moment, or a pleasurable one from the hero's point of view.
"What the hell?" A startled voice pierced the air, a flash of movement in the dresser's mirror showed the woman reaching for her sheet.
Nate averted his eyes from the mirror. "I didn't realize anyone was in here."
As for the dialogue, it flowed really well, and provided some laughs due to the banter between the pair at various moments throughout the story. I loved the jokes Nate made of his job. To hopefully make Shelby laugh, and help to recapture the close friendship they once shared, by making her feel at ease in his company. They made me like Nate all the more.
"You're persistent aren't you?"
"And you're evasive." He raked a hand through his hair and laughed.
"That's a big word, Nate Ritter."
"I'm a teacher now. They give you a binder of big words to use so you seem smarter than the students."
However, there is also an emotional component to the story as well. My heart broke at times for the heroine. Shelby's demons are ones that many young kids and teenagers face, and yet she's managed to use them for the better. Conquered them by being a role model for those that have, or could face what she did. It was captivating to see how far she's come, and that she was able to turn something so damaging to her pride into something positive.
I really liked both characters. Shelby is strong and brave just by coming back to her hometown. She faces a few challenges along the way. Hard ones that have her questioning her future, and her growing relationship with Nate. Especially after one of the secondary characters makes some cutting remarks about their growing relationship that make her deliberate on the past. While with Nate, I liked his determination to make things right between them.
There weren't many sex scenes, but the ones in this book evidently illustrated their fierce chemistry really well, and spilled over onto the pages at just the right moment. Yet, I was a little worried by what happened right after. It felt like a major turning point in their relationship. Could she finally let go of the past and forgive him? Or would she always allow it to affect her, and deny them the chance at a future? I could certainly understand the quandary she faced. By being with Nate, she'd constantly be reminded of the hurt he caused.
Overall, this was an entertaining read where the secondary characters help the story along, and where both the main characters realize that love is worth facing any obstacles thrown their way. I would recommend it to romance readers that would love a quick contemporary read.
Book Info:

Publication: July 14th 2015 | Stephanie London | Kite Harbor #0.5
Now she's coming back for more…
When successful plus size model, Shelby Jenkins, is forced to return to her hometown of Kite Harbor, Maine, she must face her past demons. But asking for help doesn't come naturally and it's doubly hard when she needs it from the boy who broke her heart. Now he's all grown up and is more tempting than a double fudge sundae with a cherry on top.
Nate Ritter loves being a teacher in the small town where he grew up. When the woman who stole his teenage heart returns, he'll do anything to prove he's no longer the insecure boy who betrayed her. As long as he makes sure he doesn't fall for Shelby since she has a big, exciting life waiting for her back in the city.
Can his shot at redemption be enough to convince her to stay?