In Definitely Naughty by Jo Leigh, Inspiration for her latest window design just isn't happening for Aubrey Hayes. Her boss at Le Muse lingerie shop in Manhattan is expecting a miraculous design for the Christmas season, but Aubrey is at a loss. Then an idea literally floats into her hands in the form of a Hot Guys trading card. The blue-eyed hunk is just what she needs to get her–er, um–creative juices flowing so to speak. Aubrey's plan works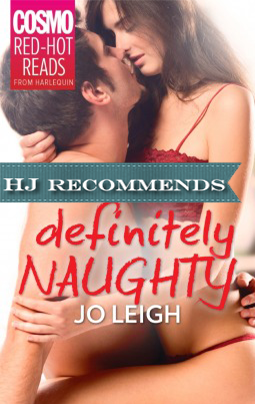 quite well until she starts getting emotionally involved with Liam. Will her instinct to cut and run win out or will she stick around and see what happens between her and the sexy detective/muse?
'Liam Flynn had clearly been sent, special delivery, to be her own, personal muse.'
Detective Liam Flynn has been trying to shake his nickname Ridiculous, as in "Ridiculously Good-Looking Cop", since that ill-fated Thanksgiving parade. And the Hot Guys trading card that followed was supposed to be destroyed by now as well. Imagine Liam's surprise when Aubrey calls him out of the blue, with his card in hand, and offers him a sexy proposition: she wants him as a muse, to have copious amounts of no-strings-attached sex so she can be inspired for a work project. What red blooded guy could turn that down? Turns out that Liam actually enjoys his time with Aubrey. She's everything he's been looking for in a woman. However, she's insistent that their liaison end when her project is finished. Can he change her mind or is she too scared to try?
"I mean, all I really need from you is lots and lots of sex."
His next words vanished from his mind. As did most of his working brain cells. "What's that you say?"
Definitely Naughty is a fun, quick romance with lots of sex appeal. Jo Leigh has written this with a decidedly Manhattan vibe, all witty and smexy, which I enjoyed.
This was one of those stories that flowed very easily with great dialogue and was H-O-T, but made me want to rip out my hair because of one of our protagonists choices. I do understand that Aubrey, like many, has a tendency to run when the situation starts to get too serious. And it makes for a great plot. But I really did kind of want to give her a little smack upside the head to smarten her up and see the wonderful man she had in front of her! 😉
Liam was a great character to get to know. He is a stand up guy who knows what he wants and is certainly not too tough on the eyes. I thought his personality was a nice balance to Aubrey's as well. She's very creative and emotional whereas Liam (usually) thinks things through and helps calm her down. Their initial meeting was quite funny and was one of the more memorable scenes for me.
I would recommend Definitely Naughty to contemporary romance readers who enjoy fun urban settings and stories with a lot of steamy love scenes.
Book Info:

 HJ Recommends 
Publisher: Cosmo Red Hot Reads from Harlequin (November 26, 2013)
Single Gal Seeks Naughty Inspiration
Aubrey Hayes @windowUndresser
Window dressing at Le Muse lingerie = best job ever. LOVE. But must design The Ultimate Window Display Of Hot Sex before Xmas. #panic 24h
A Hot Guys Trading Card just fell from the sky. Could this beautiful piece of man be my muse? It's raining men. #hallelujah 23h
OMFG, Detective Liam Flynn even hotter in person. May explode into a million pieces of lusty lady bits. #HandcuffMeNow 15h
It's on. Have convinced the uber-hot cop to be my naughty muse until Xmas. Two weeks of sex, here I come! *ahem* 14h
Muse Plan already working. Creative juices flowing. And Detective Liam Hotness is the best "inspiration" ever. Owe the Fates BIG time. 8h
But I only have him until Christmas. Keep it together, Aubrey–and DON'T fall for him. #SexNotLove 3m