In Risky, by Jo Davis, the second book in the Torn Between Two Lovers trilogy, Anna is on a much needed vacation, to regroup after what she considers a betrayal by Gray. Gray was an undercover FBI agent who also became Anna's lover…before she knew who he really was. Feeling hurt, Anna needs time away to think about what she wants to do, despite Gray's professed love for her.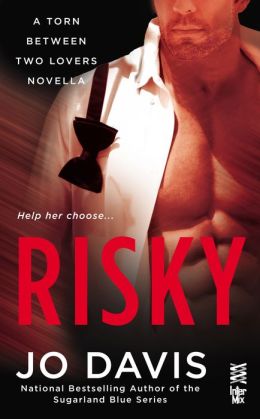 On vacation, Anna hooks up pretty quickly with Joaquin, who also happens to be someone Gray is after. Initially Joaquin plans to use Anna to hurt Gray, but he soon realizes he has a lot of feelings for Anna, and as much as he wants to hurt Gray, he doesn't want to hurt Anna. Anna knows who Joaquin is, he's been honest with her. She is just as drawn to him as he is to her and they very are very quickly involved with each other.
Joaquin's life is completely different from Anna's she soon realizes. Can she trust who he says he is and that his past is past? Is she ready to so easily forget about Gray and move on? When Joaquin's life and his past come back to haunt him and put Anna at risk, can Gray and Joaquin, who both want Anna, call a truce long enough to help Anna?
When all is said and done, who will Anna want to be with? This is what we will find out in the third and final book, Reward. I can't wait to see who Anna picks.
Risky was a fast paced romance, and I felt that it has a lot more going on than Raw (the first book) did. Risky is definitely a lot hotter too! Even though I am not too impressed with Anna, both guys are so different that the stories really balance each other out well. I think it is going to be difficult for Anna to make a choice between the two men!
This is a fun series Jo Davis is writing. The books are short novellas that are easy to read and to keep reading. I can't wait to see what happens in Reward! Jo also puts a fun spin on the series by letting the readers vote for who Anna should pick. Honestly, I haven't decided yet who I would pick! Whoever it is, I have no doubt that Jo will be treating us to another great read!
Since Risky is part of a series, I'd definitely say you have to read the first book too…then we can all wait together for the third book. Recommended for any romance reader who likes the excitement of the chase, the uncertainty of relationships, and a lot of hot romance.
Book Info:

Publication: November 19th 2013 by Penguin InterMix | Series: Torn Between Two Lovers #2
TORN BETWEEN TWO LOVERS is a gripping and sexy romance trilogy with a unique twist: Our heroine needs your help to decide who wins her heart…RISKY is the second novella in this sizzling new series, in which two enticing men will vie for Anna's heart—culminating in a choice that will be determined by reader vote!
Still hurting badly from Grayson Sloan's betrayal, Anna Claire meets Joaquin Delacruz—and she is completely won over by the wealthy and sophisticated casino mogul. Joaquin is like no one else she's ever known—insanely sexy, passionate. . .and extremely dangerous.
Joaquin's fortune is built on crime; but unlike Gray, he hides absolutely nothing from her. Soon she finds herself ensnared in the web of a powerful, magnetic man who can't—and won't—promise her forever.
But Joaquin is used to getting what he wants, and he wants Anna. He is even starting to dream of going legit and living a normal life, with Anna by his side. That is, if Anna's ex, the FBI agent who is his most hated enemy, doesn't get in his way. . .
So, will you join #TeamJoaquin or #TeamGrayson? Make the informed choice: Check out RAW, the first in the series, and REWARDED, where Anna's decision will be revealed, in February 2014.