In Deja New (Insighter #2) by MaryJanice Davidson, Insighter Leah Nazir honestly couldn't be happier with how her relationship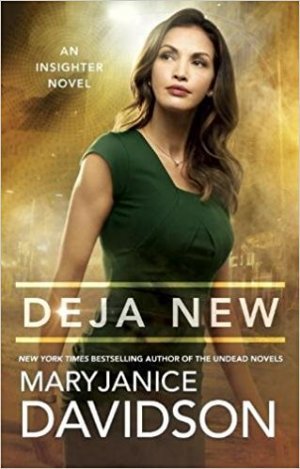 with Archer Drake is progressing. But that doesn't mean everything is perfect. Far from it. Someone from her recent past is planning to make an appearance back in Leah's life shortly and she's not sure what it will mean for her and Archer quite yet. And on top of that, their visit to see his cousins, aunt, and his father–who's in jail–doesn't go quite as planned. Leah enjoys (almost) every minute with his raucous crew of cousins but she feels badly that she can't figure out exactly why Archer's dad won't let them help him appeal his case. She knows there's something going on there that she should be able to see. Some missing piece of the puzzle that's right in front of her. And Leah will do her best to help the family find some form of peace however possible.
"This is just from my experience talking to people who are hiding horrible secrets," Leah admitted, "but I think Dennis Drake is hiding a horrible secret."
Angela Drake has spent the better part of the last decade pouring over police reports and court documents trying to figure out what happened to push her uncle Dennis to murder her father. She's hoping that her cousin Archer and his girlfriend Leah can coax some information out of Dennis. But of course nothing can be easy. And with the addition of a new detective to the case, Jason Chambers, things become even more complicated. Because Angela might have a teensy bit of a crush on him. And his charming artsy socks. She doesn't want him to think that she's using him to get info on the case so she decides not to pursue anything with Jason. At first. But as they get to know each other, and he's accepted by her siblings and cousins into their lives, she might just have to learn to let someone into her tightly sheltered heart.
"You noticed. My socks?"
"Yeah." Busted. "It's unsettling, right? Me noticing them and then creepily commenting about how I stare at your legs a lot? Yeah, it is. Forget I said anything. Your socks are boring and even if they weren't, I sure didn't notice them."
"The Monets are your favorite?" He had an odd expression; part surprise, part hopeful.
Leave it to MaryJanice Davidson to turn a book about reincarnation and dark family secrets into a laugh-out-loud, zany, yet somehow heartfelt good time. Plus, it was a twofer. Yep, two romances shared the spotlight here. Not too shabby, right?
"This life is so, so hard. There's no guarantee the next one will be any easier, no matter what the Insighters or the priests or the therapists promise. Why not grab any bit of happiness you can? You're entitled to love. And on my good days, I think I might be, too."
So, a couple of things. I would suggest reading Deja Who first just to get a better understanding of what Insighters do and how everything went down between Leah and Archer getting together. Although you could probably read this as a standalone with some perseverance. Also, this story did deal with a lot of darker issues like murder, executions, and depression, to name a few. So it might be tough for some readers. And lastly, the layout of this story will be rather confusing if you've never read a book by Davidson before. At first I felt like I was all over the place reading it–there was kind of a wandering storyline going on. But by the end I understood the flow of the scenes and chapters and was definitely engaged, cheering on Angela & Jason, Leah & Archer.
Oh my goodness, though, did I laugh at the antics of the Drake family in this sequel. Archer was comical enough in book one but getting to see his wacky family put things into perspective. I really did get a kick out of his cousins–and there were so many of them! They sort of had a "pack" attitude and Angela, Archer's cousin, lovingly referred to them as The Horde. Kinda fit. But they all meant well and were just trying to find their way together to get past a devastating family murder that happened a decade ago. I loved the humorous way they all teased each other, and getting to see each character's place in the family. It did lead to some touching moments in amongst all the (usually) playful fighting.
With a whirlwind of events taking place, lots of interesting characters to meet, and a family mystery to solve, Deja New was a tumultuous but exciting ride.

Book Info:

Publication: Published November 7th 2017 | Berkley | Insighter #2
The New York Times bestselling author of the Undead Novels takes on reincarnation in this unforgettable Insighter Novel about the pitfalls in past—and love—lives…
Leah Nazir lives in a world where the past can and will come back to bite you in the ass. No, not teething ghosts—reincarnation! As an Insighter, it's Leah's job to delve into the murky and (often) deadly former lives of her patients. And she knows a thing or two about danger after killing her mother's murderer with the help of new beau, Archer Drake.
Isn't he the best?
Now, it's time to take their relationship to the next level, but not in any way Leah could have predicted. She and Archer head to Chicago to meet his parents—and try to figure out why Archer's dad killed his brother decades ago. When someone tries to sabotage their investigation, Leah must decide if the Drake family past is a deal breaker…