Slammed by Victoria Denault finds Dixie Braddock and goalie Eli Casco in a difficult place. He's an AHL goalie for the Thunder's farm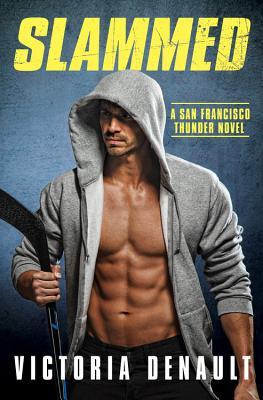 team, the Storm. Dixie is a publicist for the Thunder. Rules state that that Thunder employees cannot be involved with the players. There are no rules about being involved with the Storm players. So when Dixie gets involved with Eli, they believe they're safe, until Eli gets called up and the pair need to figure out how to be with one another. Also complicating matters is the fact that Dixie's brother, Jude, plays for the Thunder, as does Eli's brother, Levi, who is best Jude's best friend and team captain.
Not only is Eli dealing with his feelings for Dixie, but he's also dealing with the psychological effects of having his neck artery slashed during a college game. He's not the goalie he once was, because every time there's a scuffle near the net he tends to freeze. No one really seems to notice but Dixie, and she's determined to get him the help needs so he can get past it and be the goalie she knows he can be.
I felt for Eli. Everyone stares at the scar on his neck, and they keep asking him about the incident when all he wants to do is put it past him. Even his brother feels bad for him, which just upsets him more.
Dixie hides her true identity. Instead of going by her last name, she uses her middle name so no one on the Thunder, other than management, Jude, Levi, and Eli, realizes she's related to Jude. She's determined to be successful in her career on her own, not simply because she's Jude's little sister. I liked that she was willing to prove herself instead of falling back on her brother's fame.
Readers who have read the previous book in the series know that Dixie and Jude's father has been battling ALS. In this book, his health is clearly on decline. Readers won't be able to help but feel for Braddock family as it becomes obvious that he probably doesn't have a lot of time left. I really liked how Eli was willing to face the wrath of his coach to take off to be by Dixie's side.
Considering how protective Jude was of Dixie and his other sisters, and how he reacted in the previous book when Levi started dating his ex-girlfriend, I really expected him to take the news of Eli and Dixie's relationship differently than he did. Even Levi had expected some punches to be thrown; instead, he was more concerned about the fact that Dixie would have to lie about their relationship in order to keep her job. He just wants his sister to be happy.
While this is the second book in the series, it can be read as a standalone. Readers who enjoy hockey romances should check this one out.

Book Info:

Publication: December 5, 2016 | Forever | San Francisco Thunder #2
As a publicist for the San Francisco Thunder hockey team, Dixie Braddock is too busy rescuing the players from trouble to get into any of her own. Except, of course, when it comes to the super hot new goalie. Because when a guy's kiss curls your toes and sets your heart on fire, how the hell do you just walk away? But if anyone ever catches them together, she'll lose her job faster than any slapshot.
Eli Casco is on the brink of having everything he ever wanted. He's finally been called up from the minor leagues to play on a championship team. And he just had the most mind-blowing night with the woman of his dreams. But now that he's an official Thunder player, Dixie is determined to keep her distance. None of the fame and fortune means anything to him without her to share it. If he truly wants Dixie in his life, it's time to throw down his gloves and put everything on the line.