Delia Suits Up by Amanda Aksel: When Delia feels rejected after another high profile job interview in the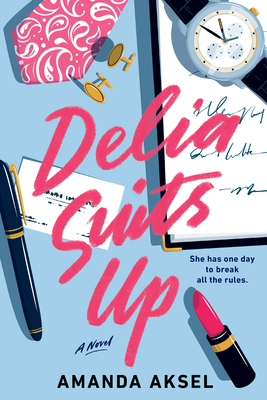 investment banking industry, knowing she's about to don her professional cleaning get-up and scrub a rich man's penthouse floor to ceiling to survive financially, she rewards herself with the only blessing in her day – running into her crush who had thoughtfully purchased a cupcake for her birthday. Munching away to drown out her misery, Delia realises two things: Firstly she just cleaned the apartment of the guy her crush is trying to land a huge contract with, and secondly, she needs the comfort and solace of her room mates so they can play the time honoured tradition of truth or dare on the living room floor with some cheap wine.
Settled in for the night with Frankie and Regina on the rug, Delia discovers she has accidentally left her phone in big suits' apartment and more importantly perhaps, determines she hasn't landed her dream job yet because she's a woman in a man's world. Sadly, like many in the finance industry, Delia wishes she could trade places with a man just once knowing she would have far more success then what her gender has limited her to. As fate would have it, Delia is forced to review her drunken lamentations the next morning, when she awakes as a completely different version of herself.
Having launched into this one completely blind, the key action kernel came as quite a shock. However, there appeared to be a slight under-reaction from her roommates and this impacted the big reveal by flattening the tension slightly. As expected, Delia's transition into a 'man's world' including the various physical novelties proved initially to be quite comical, however, over time, the same gag was pushed a little too hard and therefore, the essential and important themes were lost a little in the wash. Interestingly enough, there was real scope to explore gender stereotypes on both side of the fence but on the occasions where the set-up was brilliant, it wasn't able to completely deliver.
For the majority however, Delia's dual experience of the world had some solid insight, particularly in terms of how we perceive others to see us and equally, our perception of ourselves. In many ways, Delia concludes that success really is about attitude and having false bravado is key in giving the boost needed to be courageous when she needed to be. No doubt, this will resonate strongly with those who work in the corporate world and who have experienced misogyny or limitations due to gender.
Overall, this amusing combo of office romance meets Switch had a tonne to enjoy, including a meet cute double entendre involving Shakespeare's Twelfth Night and some witty observations about the exhausting social constraints placed on women who have to fight for every inch of their success.
Book Info:

Publication: 3rd August 2021 | Berkley Books |
Just once, Delia Reese wants to be the one calling the shots—not the one waiting to be called. Despite her stellar resume, hiring managers at the big banks won't give her a chance.
Following yet another failed interview, Delia commiserates with her roommates and drunkenly finds herself wishing she had the advantages that come with being a man. If society wasn't locked into gender roles, she'd be climbing the corporate ladder in designer heels with no apologies. By morning, her mirror reflects a surprising makeover.
Now that the world sees her as a man, Delia's determined to double down on society's double standards. With a smart suit and powerfully pink necktie, she hits New York's financial district with a big gamble in mind.