Delight Me: A Stark Ever After Collection and Story by J. Kenner is basically a love letter to her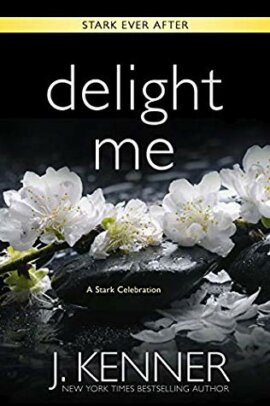 fans. Filled with a new holiday novella and previous short stories and texts from everyone's favorite power couple, Nikki and Damien Stark, this collection showed off the strength of their relationship as well as their shared passion that never ceases to amaze me.
'We complete each other, Damien and I, and I sometimes wonder how I would have made it through this world if our paths had never crossed.'
J. Kenner knows how much we adore any snippet we can get of Nikki and Damien Stark's life together. In this collection, she included some of the short stories we've grown to love over the years that show special moments of time for Damien and Nikki. There were several memorable quotes from their books that are much loved by fans. A note from JK herself about how she originally came up with the idea for the series. And some sweet and sexy texts between Nikki & Damien (so much fun!). *Plus* there was a brand spanking new novella set during the holidays.
"I had a picture of how this holiday would go. And so far it's not working out that way."
He kisses me one more time. "That doesn't mean that it won't in the end."
The holiday novella, titled Delight Me: A Stark Celebration, found Nikki and Damien in quite the predicament. One of those situations where anything that could go wrong definitely did. I won't give away too many details aside from saying that Nikki was left to hold down the fort at home with their girls while Damien went on a last minute secret trip to try and make Nikki's holiday dreams come true. We actually got *both* of their POVs, which made the story even more interesting and honestly, quite sweet. I loved seeing how deeply Damien and Nikki care for each other–and how that love has grown with each passing year. *dreamy sigh*
'I'm lost, swept away by the moment, lost in the intense passion of my love for my husband. And what makes it even better is that I know he is, too.'
Having all of these quotes, stories, and sensual scenes collected in one place makes it clear how perfect Nikki and Damien are together–and why fans can't seem to get enough of them. Many thanks to J. Kenner for of course creating such dynamic characters in the first place, but also for continuing to bring more of the Starks into our lives and our hearts.
Book Info:

Publication: Published December 19th 2019 | Martini & Olive | Stark Ever After #6.4
"I've read thousands of books over the years, but not many come close to Damien & Nikki's love story." iScream Book Blogs
There's one special gift Damien wants to give his wife Nikki and their daughters for Christmas… but with a storm approaching and time running out, can he make it home in time for the holidays?
Don't miss this all-new, deeply emotional novella!
While Damien tries to bring something wonderful home to his family, this book is JK's special treat for Nikki and Damien fans. Dive deep into bonus content you may have missed over the years, including a love note from Damien, text messages between Nikki and Damien, fan-favorite quotes from the books, plus several fun and sexy scenes previously shared in JK's newsletter and on other sites. And, of course, the all-new holiday novella!
And don't miss JK's special note to readers!
"I never ever want to say goodbye to the Stark world! And I hope I never have to." BJ's Book Blog