Demanding His Hidden Heir by Jackie Ashenden is an enjoyable and sexy 'secret baby' second chance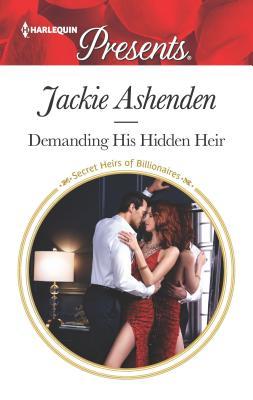 romance.
Before Matilda St. George entered into a companionship marriage of convenience with an older family friend for money reasons, her soon-to-be fiance gave her a beach vacation to enjoy being single before announcing their engagement. A sexy affair on the Caribbean island left Matilda with an unexpected pregnancy but the man she married was content to claim the child as his own. Though she eventually found out the name of the man she'd slept with and left during their night together, his wealth and status made her doubt that he'd believe her pregnancy tale anyway.
That all changes when she comes face to face with Enzo Cardinali and he sees her 4 year old son while at a St. George house party where Enzo has come to bargain for an island property owned by Matilda's husband. The boy, Simon, has the golden eyes native to Enzo's family so there is no doubt that he is the father. He is determined to be a father in more than name to his newly found son and insists that Simon spend time with him. But Matilda isn't about to let her son go off without her. Her marriage of convenience isn't going to be a barrier as her husband is willing to proceed with a divorce. Free to pursue a new relationship, can Matilda and Enzo rekindle the fire that first drew them together?
This is an interesting set-up since Matilda is married when she and Enzo meet again a few years after their passionate fling. The author makes it very clear that Matilda and her husband married only for companionship and never slept together, and also that Enzo will not engage in anything with a married woman. So there is no cheating (Matilda wasn't officially engaged with she met Enzo) and nothing happens between them until Matilda is divorced.
That said, the sexual tension between Matilda and Enzo is sizzling and once she is legally free, they don't hesitate to reconnect intimately in some steamy love scenes. I loved seeing Enzo's determination to get to know his son, making sure to spend time with him every day and show him that he is wanted and loved by both his parents. There are some bumps along the road before Enzo and Matilda get their happy ending. Secondary characters such as Enzo's brother Dante and complicated family dynamics make for added drama and angst to go along with the passionate romance. I'm looking forward to reading Dante's story, and three cheers for the author's first Harlequin Presents novel!

Book Info:

Publication: Jul 18, 2019 | Harlequin Presents | Secret Heirs of Billionaires #26
A sizzling weekend…
Changes the Italian's life – forever
Enzo Cardinali had never known a passion like the one he shared with Matilda St. George during their red-hot Caribbean fling. Beautiful, irresistible Matilda made brooding Enzo crave something more for the first time. But when she left abruptly, he vowed to forget her, rebuilding the walls around his damaged heart. Now Matilda has reappeared―with his son! Enzo demands his heir, but will he claim vibrant Matilda too?