Desert Prince's Stolen Bride by Kate Hewitt: Desert Prince's Stolen Bride by Kate Hewitt is a passionate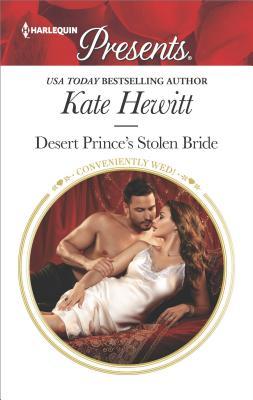 and enjoyable Cinderella themed romance.
Prince Zayed of Abkar is determined to reclaim his thrown, after his family was overthrown in a palace coup that saw his family die, and him exiled from the country. He needs the support of ruling families to do so, and marrying the woman he has been betrothed to since childhood is the first step. Her father is reluctant to follow through with the bargain so Zayed takes matters into his own hands. He kidnaps the young woman in the dead of night and spirits her away to his desert fortress.
Olivia Taylor is so confused! Why has she been kidnapped? She's a nobody, the governess to three young girls in the Amari household, and friends with Halina, betrothed to the Prince, with whom she went to school. It's clearly a case of mistaken identity though she speaks little Arabic and everything is happening so quickly! Before she knows it, she's spending a sensual night with the handsome Prince who seduces her and makes her feel like the most beautiful woman in the world.
In the cold light of day though, the truth is revealed. Zayed has kidnapped and married the wrong woman! With the marriage consummated, there is no quick fix. All of Zayed's plans to unite the country under his rule are in jeopardy. Yet he cannot deny his attraction to the young woman, now his wife. Will love or duty win out in the end?
I really enjoy Kate Hewitt's writing and this is another delightful example of her passionate style and compelling storytelling. Sheikh romances are tricky to write nowadays with readers being more aware of cultural sensitivities and stereotyping. In most cases, like this one, there is an emphasis on the desert countries being more progressive for human rights, especially for women. Zayed wants the best for all his people, and removing the corrupt man who took over power from his family is a top priority. He is conflicted by his feelings for Olivia and his duty to his people. At first, the mistake he's made in kidnapping the wrong woman seems enormous. It was a desperate way to force the hand of Halina's father and now has no weight, since he got the wrong woman. Zayed starts to see that Olivia's upbringing as a diplomat's daughter could be influential in persuading other countries to recognize him as the legitimate ruler, which is a way to salvage the situation. Plus, it would mean he can keep her in his life, which is something he likes the idea of, more and more.
Olivia is used to putting others before herself, so she has some sympathy for Zayed even as his choice to kidnap has upended her life. If he were to divorce her and marry Halina, she'd be left with no position with the Amari household, and no home. She has no family to go back to in Europe with her diplomat father having died some years ago leaving her penniless, and even though Zayed promises to provide for her, it's hollow consolation when she's starting to feel something for him. Their love scenes, starting from their wedding night are passionate and intense. It's clear they are developing strong feelings for each other even while they are both conflicted about the future. The political turmoil in the country leads eventually to a resolution, and a happy ending for the couple. If you like Cinderella themed stories where the girl gets the Prince in the end, you'll enjoy this romance!

Book Info:

Publication: April 17, 2018 | Harlequin Presents | Conveniently Wed
He'll do anything to wed his princess… Even if it means stealing her away! Shy palace governess Olivia Taylor spends her life being overlooked. Until the night brooding Prince Zayed spirits her away! To reclaim his country, Zayed must wed his betrothed. But when it becomes clear that Olivia is the wrong bride, can they put their mistake right? And with such heated chemistry between them, do they want to..